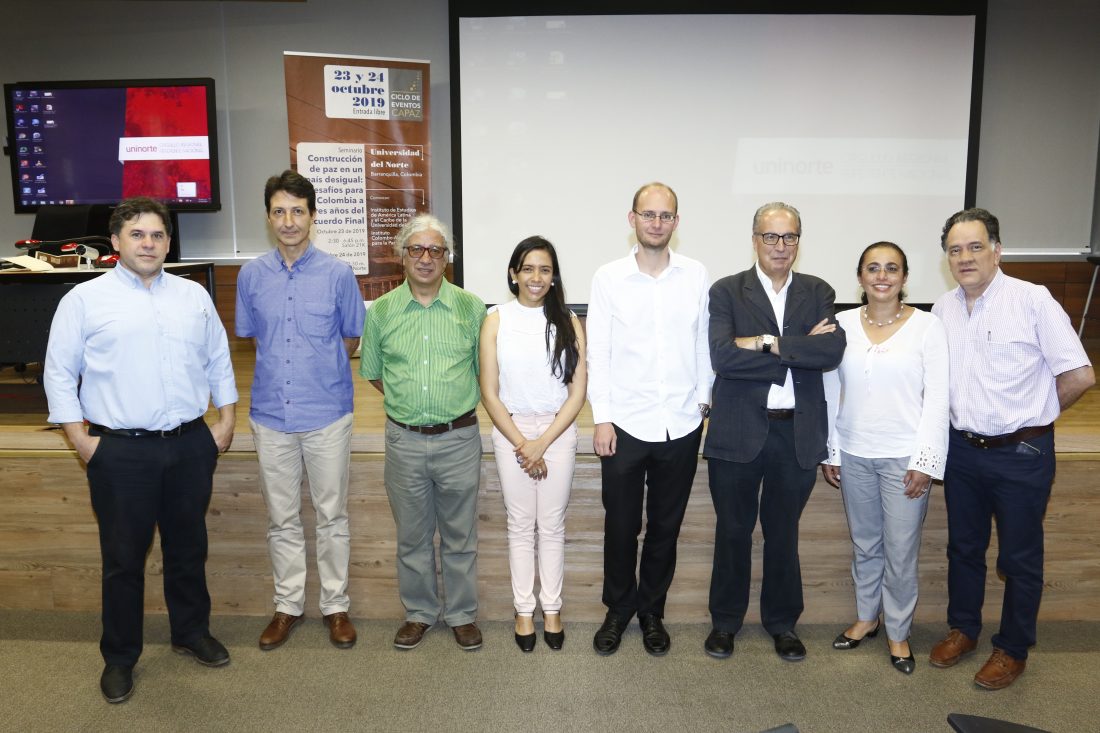 Agenda on social inequalities and peacebuilding in Universidad del Norte
The seminar "Peacebuilding in an unequal country: challenges for Colombia three years after the Final Agreement" took place on October 23 and 24, 2019. The event was organised by CAPAZ and the Institute for Latin American and Caribbean Studies at Universidad del Norte in Barranquilla.
The CAPAZ Institute was represented by its Academic Director, Prof. Dr. Stefan Peters, and Juliette Vargas, CAPAZ Scientific Collaborator.
Other guests at the event included Roberto González Arana, director of the Institute for Latin American and Caribbean Studies at Universidad del Norte; Rafael Grasa, professor at Universidad Autónoma de Barcelona; Fernando Giraldo, doctor of political science at Universidad del Norte; Camilo Borrero, professor and doctor of law at Universidad Nacional de Colombia; and Gabriel Gómez, professor of law and political science at Universidad de Antioquia.
The central themes of the discussions were social inequality and the key role played by memory in peacebuilding, commented by experts referring to the peace process from different perspectives.
Book launch
Prof. Dr. Stefan Peters and Jairo Agudelo, professor at the Department of Political Science and International Relations at Universidad del Norte, launched the book entitled "El modelo social europeo y América Latina", edited by Sören Brinckmann.
The book has three sections. The first section deals with the European social model, followed by a comparative analysis of the European model and the Latin American model. The book ends by discussing the evolution of this model and the implementation of (public) social policies in Costa Rica, Brazil, and Colombia.
In the second section, Stefan Peters states, "this book serves to reflect on the possibilities of implementing public policies to reduce social inequalities. There are several interesting points that with a very thorough reading will serve to formulate ideas for reforming public policies in favour of more equitable societies".
See the informative note about the event published by Universidad del Norte (In Spanish).
(Text: Valentina Pardo, Claudia Maya, English version: Tiziana Laudato).