Call to recruit an Administrative Assistant for CAPAZ project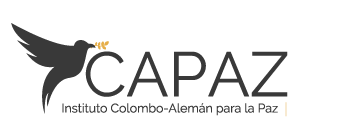 Call for applications for an administrative assistant for the Stabilisation of the Peace Process in Colombia through the Promotion of Justice, Truth and Human Rights Project"
Funded by the German Foreign Office, CAPAZ is implementing the project: "Stabilisation of the Peace Process in Colombia through the Promotion of Justice, Truth and Human Rights", whose overall purpose is to strengthen the Integral System of Truth, Justice, Reparation and Non-Repetition in Colombia from an academic standpoint.
As part of this project, CAPAZ is inviting those interested to apply for the position described below:
Contractual issues
Job title: Administrative assistant
Type of contract: Part-time fixed-term employment contract
Duration: From the date of recruitment until December 2022
Location: Bogotá – Colombia
Monthly salary: $2.175.000 less applicable legal deductions
Requirements
Technical or technological degree in management programs or students on management courses in their last semesters of university studies.

Minimum experience of 2 years in similar positions.

Knowledge of the Microsoft Office package, excellent command of Excel and databases.

Excellent writing and spelling skills.

Basic written communication skills in English – email writing (desirable).

Confidentiality, integrity, punctuality and professionalism in the execution of duties and personal behaviour.

Excellent interpersonal skills, proactive, responsible, team player and self-initiative.
Responsibilities
Support financial monitoring for the project and verify that the budget executions have the required documentary support within the established deadlines.

Maintain weekly monitoring of project expenditure and budget execution and keep the project's financial plan up to date.

To continuously organise the file with the supporting documents for payments made and contact databases.

Provide timely and efficient support to the preparation of half-yearly and annual budget execution reports for submission to the project funder.

Contact suppliers, make requests for estimates, invoices and accounts receivable.

Purchase airline tickets and make hotel reservations.

Support the organisation of events and other operational tasks of the project.
Documentation required
Curriculum Vitae

Copy of certificates (diplomas of higher education, non-formal education, work experience, etc.).

Motivation letter (maximum two pages)
Note: the documents requested should be sent in digital format (as a single pdf file) with the reference "Selección asistente administrativo/a" to the following e-mail address: convocatorias@instituto-capaz.org by February 10, 2020.
Download the TdR (.pdf, Spanish)
(NWText: CAPAZ Direction. English: Tiziana Laudato)