CAPAZ PRESENCE AT THE CONFERENCE HELD BY THE FEDERAL MINISTRY OF FOREIGN AFFAIRS ON LATIN AMERICA AND THE CARIBBEAN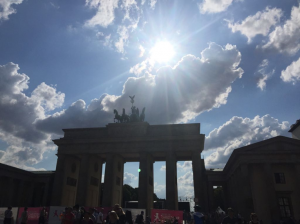 The German Federal Foreign Office will host the Conference on Latin America and the Caribbean Initiative 2019 on Tuesday, May 28, 2019.
Heiko Maas, Germany's Federal Minister of Foreign Affairs, will meet in Berlin with his peers from various Latin American and Caribbean countries. Representatives from academia, industry, politics, social activism, culture, as well as opinion leaders from Germany and invited countries will also participate.
We are pleased to announce that CAPAZ will participate in this important event, in the panel on German-Latin American scientific cooperation organized by Dr. Jonas Wolff (Peace Research Institute Frankfurt, PRIF). Dr. Wolff, and Prof. Dr. Camilo Borrero (Universidad Nacional de Colombia) will be involved in the discussion. Both are spokespersons representing their founding institutions in the CAPAZ Consortium.
The CAPAZ researcher and the Chair for Peace at Justus Liebig University Giessen, Dr. Rosario Figari Layús will also participate in this panel, focusing on the discussion of contributions to peace research, specifically on topics such as transitional justice, socio-environmental conflicts, the dynamics of forms of violence and conflicts, and their prevention mechanisms.
The purpose of this meeting is to establish a common agenda between Germany and the Latin American-Caribbean region, with which common issues, challenges and goals can be discussed in areas such as scientific cooperation and economic and diplomatic relations. The conference will also serve as a setting in which to discuss issues such as climate change, the upholding of the rule of law, human rights, and other issues on the geopolitical agenda. The conference is organised by Deutsche Gesellschaft für Internationale Zusammenarbeit (GIZ) GmbH.