CAPAZ participates in meetings and academic activities in the southwest region of Colombia
From June 6 to 8, 2018 Prof. Dr. Stefan Peters, academic director of the CAPAZ Institute, participated in meetings and activities with representatives of universities, social organizations, and the media in the department of Nariño, in southwest Colombia.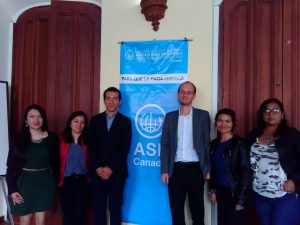 The aim of Dr. Peters' visit to Nariño was to learn about the activities and research of institutions and organizations related to the territorial peacebuilding, as well as to promote cooperation ties between CAPAZ and the institutions in the region.
Lecture by Dr. Peters at the University of Nariño
On behalf of CAPAZ, Dr. Peters presented a paper on "Perspectives and Challenges in the Post-Conflict Context in Colombia", as part of the conference "Challenges and Perspectives of Peace", organized by CAPAZ, Lawyers Without Borders Canada (ASF) and the Guasimi Corporation at the University of Nariño (UDENAR).
Dr. Peters held meetings with executives of UDENAR, including the director of the Center for Latin American Studies and Research, Dr. Pedro Pablo Rivas Osorio. He also met the Nariño representative of the Lawyers Without Borders Canada (ASF), Laura Rivera Revelo, and its legal advisor, Hugo Fernando Saidiza Peñuela.
"Peace and Territory" Program of Mariana University
On his visit to the city of Pasto (Nariño) Dr. Peters met with the rector of Mariana University, Sister Amanda Lucero Vallejo, and Felipe Andrés Criollo Córdoba, coordinator of university's "Peace and Territory" program. The "Peace and Territory" program offers students from different university programs to work in communities of 11 municipalities in the department of Nariño and the city of Quito, Ecuador. The students work hand in hand with the local administration and their entities, relating the academic with the social and professional projection. At Mariana University Dr. Peters attended the lecture "Drop-up rate, access and educational quality in universities", which was organized by Juan Pablo Rivera. For CAPAZ the subject is of particular interest as it reflects one of the institute's aims of strengthening the projection and accessibility of knowledge in Colombian regions.
Meetings at the Universidad Cooperativa de Colombia in Pasto
At the Universidad Cooperativa de Colombia Dr. Peters met with the coordinator of postgraduate studies at the Faculty of Law, Livio Schiavenato, and the representatives of the research group "La Minga" (Category B of Colciencias). Researchers from law, philosophy and sociology such as Dr. Tania Bolaños and Dr. Israel Biel, who have coordinated and participated in exploratory studies that have been supported by CAPAZ, are part of the "La Minga" research group.
CAPAZ and indigenous organizations of Nariño
The academic director of CAPAZ held meetings with the representative of the Indigenous Community of Pastos, Omar Salcedo Guerron, and representatives of the Indigenous Unit of the Awá People (Unipa).