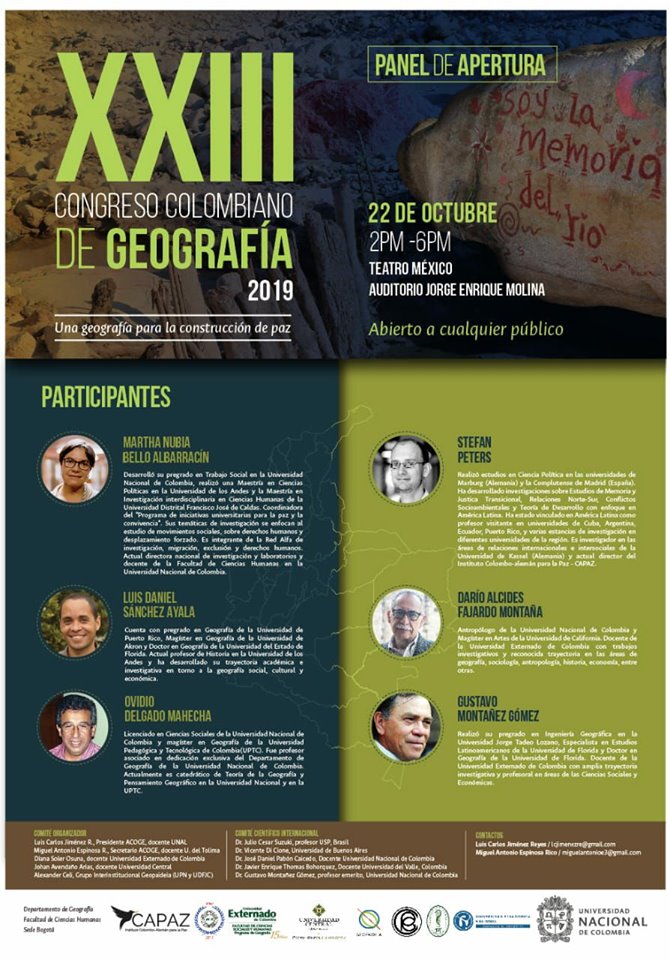 CAPAZ TAKES PART IN THE COLOMBIAN GEOGRAPHY CONGRESS BEGINNING TOMORROW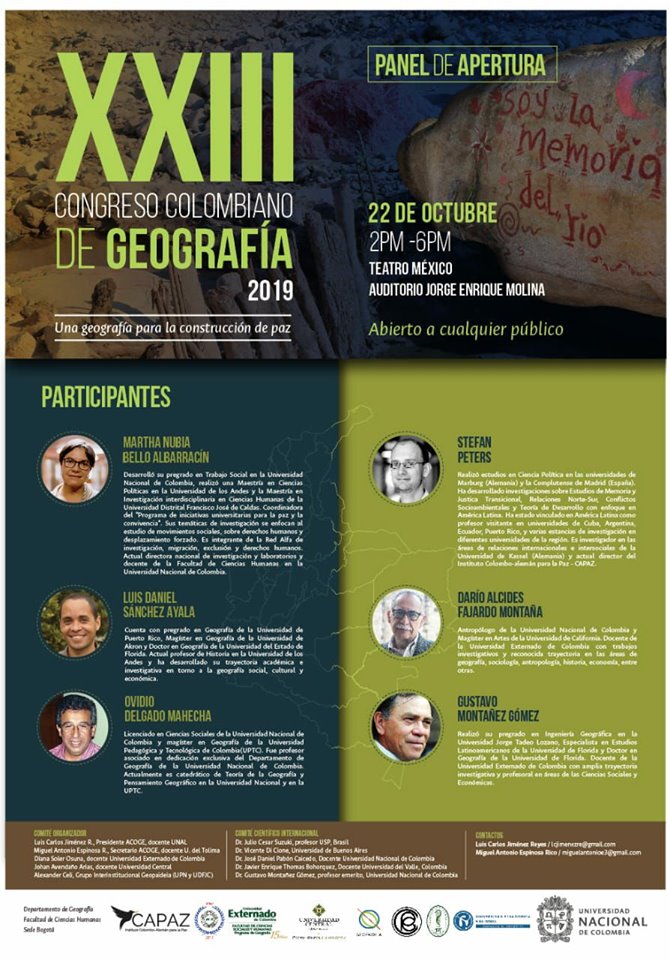 The XXII Colombian Geography Congress will be officially opened tomorrow, Tuesday, October 22, 2019, with the panel entitled "A Geography for Peacebuilding". The event will take place at the Jorge Enrique Molina Auditorium, of the Teatro México at Universidad Central in Bogotá. The panel will include the participation of the Academic Director of the CAPAZ Institute, Prof. Dr. Stefan Peters, who will alternate with renowned academics in the field of Colombian geography such as professors Darío Fajardo and Gustavo Montañez, among others. The event is public and will begin at 2:00 p.m.
The Colombian Geography Congress is the ultimate academic event on Colombian geography and is organised by the Colombian Geography Association (ACOGE), the Colegio Profesional de Geógrafos, the Department of Geography of Universidad Nacional de Colombia, the Geography program at Universidad Externado de Colombia, the Specialization in Geography and Environmental Management of the Territory at Universidad Central, the inter-institutional group Geopaideia (UPN and UDFJC) and Universidad de Córdoba.
It is worth noting that as part of its exploratory studies, CAPAZ has promoted the consideration of a critical geography that responds to the challenges posed by the peace process. Hence the importance of supporting this congress, a key milestone for research into peace and conflict from a socio-space perspective.
Opening Panel
Date: Tuesday, October 22, 2019
Place: Jorge Enrique Molina Auditorium, Teatro México – Calle 22 No. 5-85, Bogotá
Time: 2:00 – 6:00 p. m.
More information about the congress here
(Text: Valentina Pardo, Carlos Nupia, English version: Tiziana Laudato).