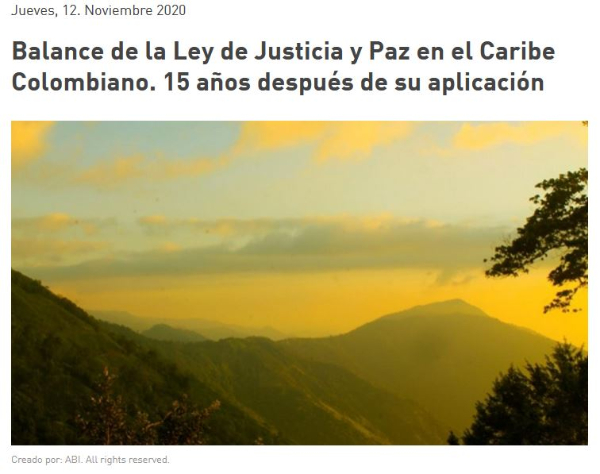 Talks to discuss the Justice and Peace Law in the Colombian Caribbean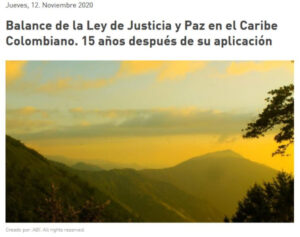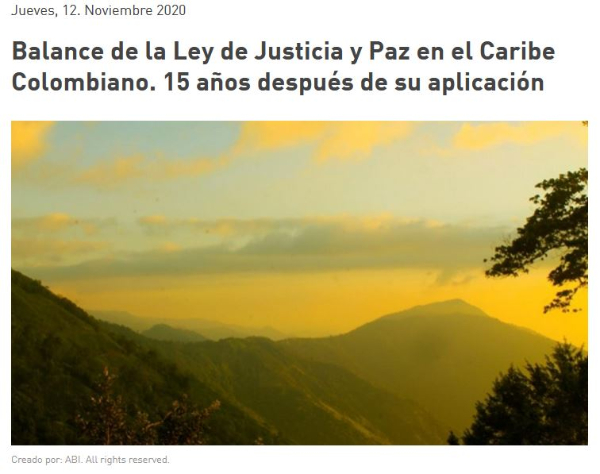 CAPAZ, the Heinrich Böll Foundation in Colombia, and the Arnold Bergstraesser Institute in Freiburg welcome those interested to take stock of 15 years of the Justice and Peace Law (Law 975, passed in 2005). The discussion will address several questions including the following: Was it possible to guarantee truth and justice for the victims of paramilitarism in the Colombian Caribbean? What impact could the Justice and Peace Law have had on reducing violence or on non-repetition? Was reparation for the victims achieved within this framework?
The online event will take place on Thursday, November 12, 2020, from 10:00 a.m. to 12:00 m. (Colombia time).
Access the event at: https://us02web.zoom.us/j/82659371063?pwd=emgxbCtnaUZNOFJDcjJUYUQ4bWxhdz09
(Access code: 083551)
Special guests:

Jairo Ignacio Acosta Aristizábal. Coordinator of the Judicial Criminal Prosecutors acting before the Justice and Peace Court, and professor at the Universidad Santo Tomás de Aquino, Pontificia Universidad Javeriana, and Universidad Nacional de Colombia. Currently working on Collective Reparation, Restorative Justice and Conciliation in the Criminal System.
Álvaro Francisco Córdoba Caviedes. Former Legal Director of the National Commission for Reparation and Reconciliation (created under Law 975) and former Prosecutor of the Human Rights Unit. 
Lerber Dimas Vásquez. Professor at Universidad de La Guajira and researcher of the Oraloteca group at Universidad del Magdalena. 
Florian Huber, Director of the Heinrich Böll Foundation, Bogotá, and Dr. Alke Jenss of the Arnold Bergstraesser Institute will moderate the event.
For more information see the website: Heinrich Böll Foundation in Colombia (in Spanish)
(NW: Taken from the HBF webpage. English: Tiziana Laudato)