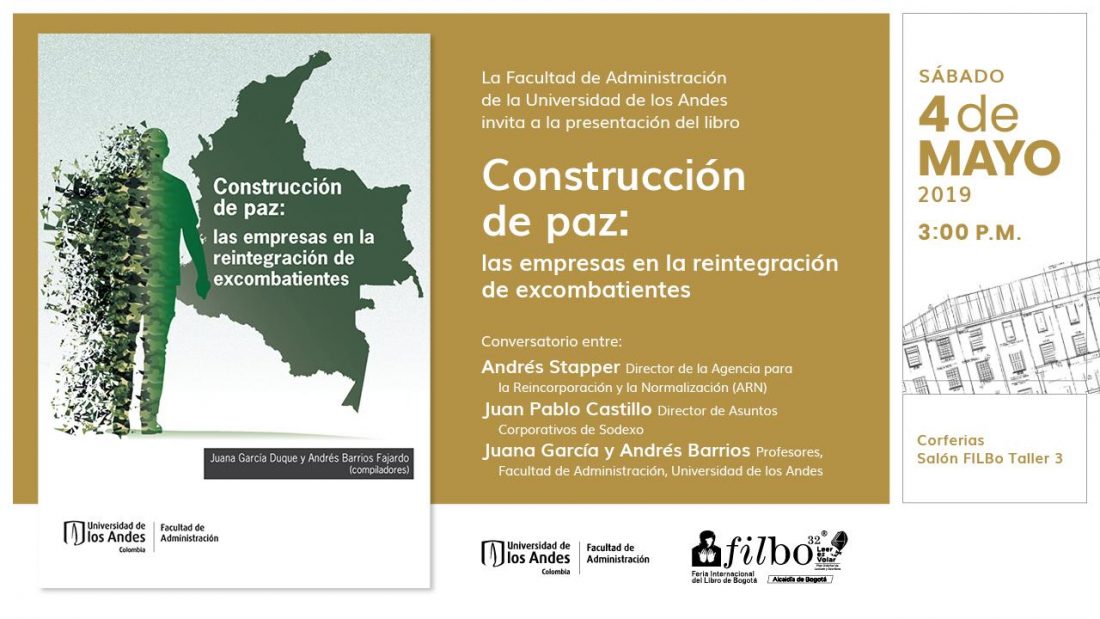 Public lecture of Universidad de los Andes on businesses and reintegration of ex-combatants at FILBO 2019
The public lecture entitled: "Businesses, reintegration of ex-combatants and peace building" will take place At the Bogota International Book Fair (FILBO 2019) on Saturday, May 4, 2019, at 3:00 p.m.
The event is organized by the Faculty of Business Administration at Universidad de los Andes and includes the book presentation entitled: "Construcción de paz: las empresas en la reintegración de excombatientes" (Peacebuilding: Businesses in the reintegration of ex-combatants). The event will be held at FILBO 2019 fairgrounds (Corferias, FILBo Workshop 3). Admission is free.
Participants of the conversation are Andrés Stapper, Director of ARN (Presidency of Colombia); Juan Pablo Castillo, Director of Corporate Affairs of Sodexo, and by Juana García and Andrés Barrios, both professors who compiled the texts for this publication. Professor García is the spokesperson for the Universidad de los Andes at the CAPAZ Consortium. The publication was edited by the Faculty of Administration of the University of the Andes.