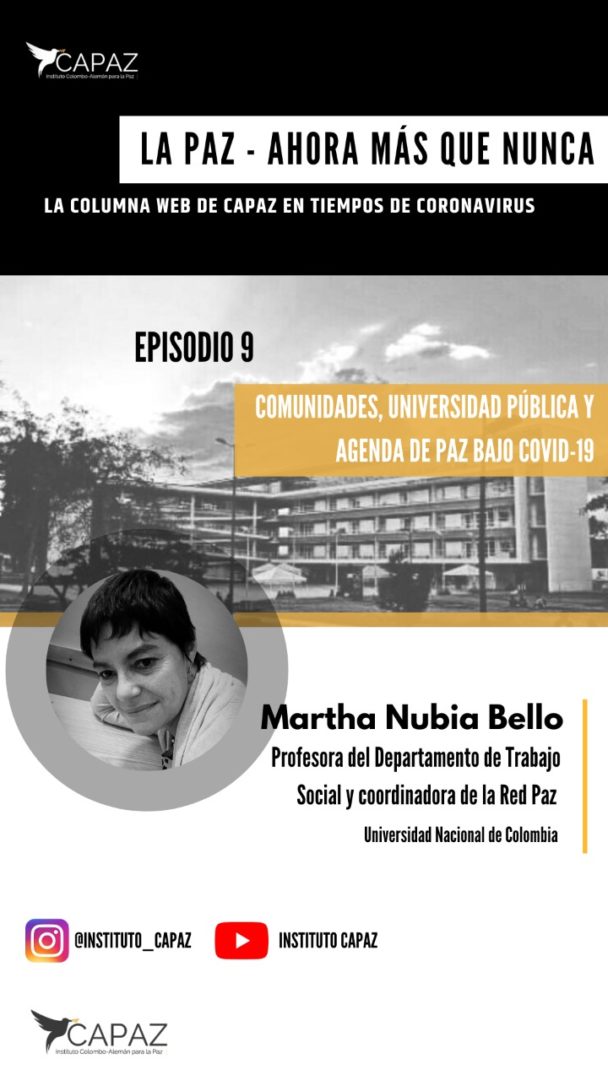 Martha Nubia Bello on: "The pandemic won't hold our peace"
Martha Nubia Bello, professor of the Department of Social Work and coordinator of the Peace Network at Universidad Nacional de Colombia, is our guest on the ninth episode of the CAPAZ Institute's web series on peace in times of COVID-19.
Episode 9 – Communities, state universities and peace agenda during the COVID-19 (in Spanish)
Martha Nubia Bello has journeyed across the fields of peace and academia. Her experience in these areas has taken her to classrooms, spaces of memory, cities and rural Colombia. Her encounters and dialogues are with the communities as much as they are with colleagues and students.
As a result, the professor and researcher raises her voice, in a sensible and self-critical tone, about the implementation of peace. That peace agreed upon in 2016, which today is far removed from the situation in the territories. A peace that also suffers the consequences of COVID-19.
In this episode, Martha Nubia Bello looks at the academic work, the efforts of teachers and students, and community resilience. Despite the difficulty of the undertaking, the pandemic will not stop state universities from supporting and accompanying the implementation of peace. "The pandemic won't hold back our peace", she concludes.
Follow this and the other episodes of the CAPAZ series «La paz, ahora más que nunca» on Instagram @instituto_capaz and the CAPAZ YouTube channel.
(NW Text: Claudia Maya. English version: Tiziana Laudato)