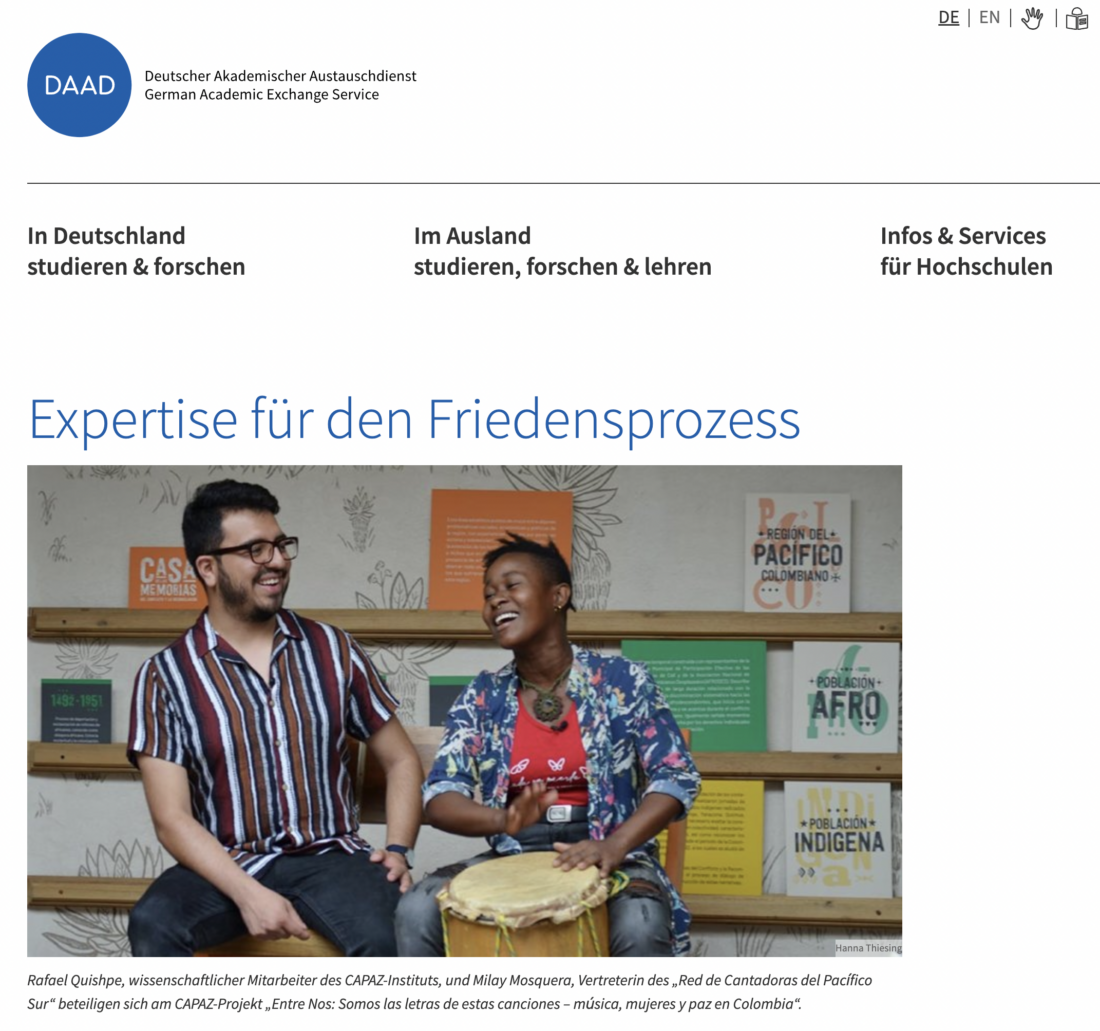 "Expertise für den friedensprosess": DAAD article highlights the work of the CAPAZ institute
The work conducted by CAPAZ since 2016 to support peacebuilding has been highlighted on the DAAD Germany (Deutscher Akademischer Austaschdienst) website. The article highlights that "with German and Colombian academic and research partners, CAPAZ has provided scientific support to the peace process". It also highlights the fact that the Institute's work has been based on "research and knowledge transfer in dealing with the past, memory building, conflict prevention, and peace research".
Read the full article here (in German).
CAPAZ' outstanding projects
The DAAD article singled out some of the CAPAZ Institute's projects in particular, including "the 10 free online courses on a variety of peace and conflict research topics" offered by our School of Online Courses. Particular emphasis was placed on the courses offered to former guerrilla fighters. As Prof. Dr. Stefan Peters put it, "We are very proud of our courses for former guerrilla fighters. High-level online discussions on various topics regarding the peace process provide an opportunity for different perspectives and experiences on the conflict to be heard and reflected upon in public".
Check out our range of online courses offered in 2021-2022
An example of this is one of the audio-visual products of the diplomacy project: Vox Populi. In this episode, we talked to Colombian citizens and asked them to tell us about their questions on German-Colombian cooperation. The Colombian Ambassador to Germany, Peter Ptassek, and our academic director, Stefan Peters, answered them.
The article also mentioned the important work done by CAPAZ in supporting the Final Report of the Truth Commission, where we will be working closely with them, especially in the pedagogy of the report, taking into account Germany's track record in citizen training or political education.
Read the CAPAZ Policy Brief on political education and citizenship education here.