First CAPAZ Slam in Cali, Colombia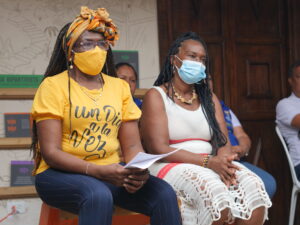 CAPAZ will hold the first CAPAZ Slam as part of its Education and Science Diplomacy Project in Cali, Colombia.
The Slam will also host women singers from Fundación Canapavi – Red de Cantadoras del Pacífico Sur (Tumaco) and Del Naya in Buenaventura who come together to talk to the public about their musical and oral traditions, which have been affected by the conflict; memory; and peacebuilding in their regions. The event is called "Memories, coexistence; and peacebuilding in Cali and the Pacific" and will take place on Friday, December 10, 2021, from 2:00 to 4:00 p.m. at Casa de las Memorias del Conflicto y la Reconciliación in Cali, Colombia.
Admission is free, with limited capacity following biosafety protocols. The event is organised in partnership with Cali's Department of Peace and Citizen Culture.
The CAPAZ Slam was conceived as an event in which those interested can learn about research projects and social initiatives related to the topics that CAPAZ focuses on, presented creative and dynamically in a short period of time.
The participants or "slammers" engage in discussions with each other and with the public about the goals, findings, results, and experiences in the development of their projects or initiatives.
Four initiatives will be implemented in Cali:
Research seedbed "Art for Reconciliation"- School of Performing Arts – Institución Universitaria del Valle Bellas Arte
Fundación Canapavi- Red de Cantadoras del Pacífico Sur
Leyda Noviteño
Mujeres del Naya, Buenaventura
The Education and Science Diplomacy Project is a CAPAZ initiative, funded by the German Federal Ministry of Education and Research (BMBF).