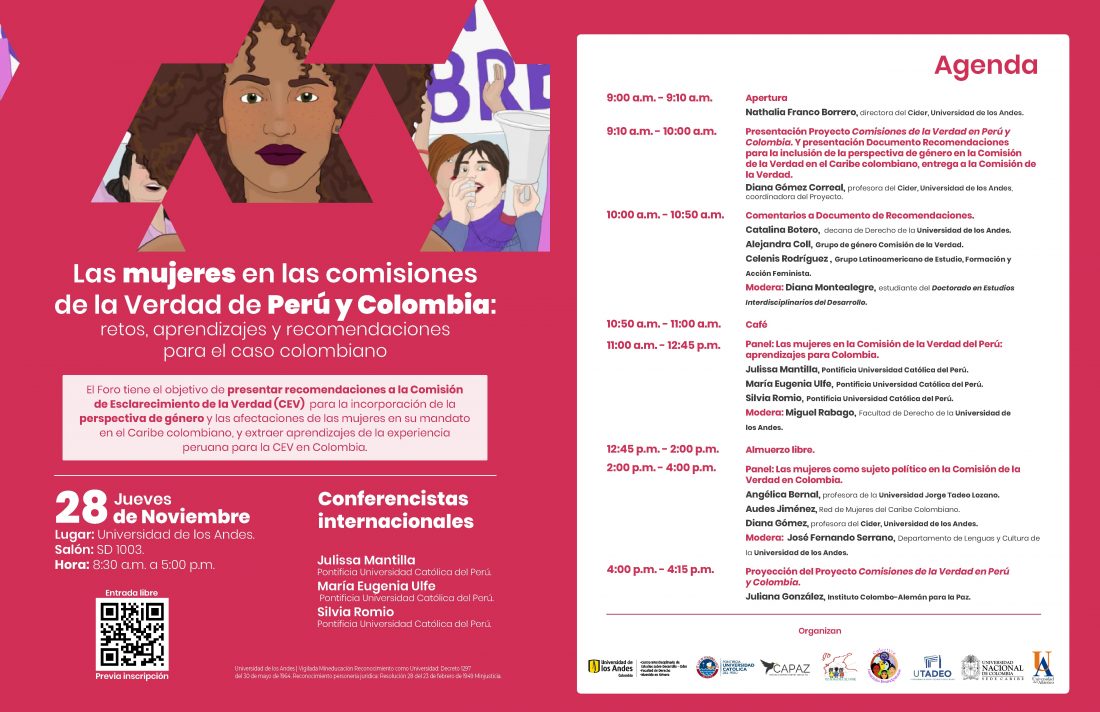 Forum: Women in Truth Commissions in Peru and Colombia
The forum entitled "Women in Truth Commissions in Peru and Colombia: Challenges, Learnings, and Recommendations for the Colombian Case" will take place on Thursday, November 28, 2019, from 8:30 a.m. to 5:00 p.m. at Universidad de los Andes (Room SD1003) in Bogotá.
This is the first CAPAZ supported event related to the research project on truth commissions and gender.
During the event, the Recommendations Document for the inclusion of the gender perspective in the Truth Commission in the Colombian Caribbean will be presented within the framework of the research coordinated by CIDER entitled "Inclusion of the effects experienced by women and their resistance processes in the Truth Commissions of Peru and Colombia: Retro and prospective views of transitional justice".
The main objectives of the forum are to present the Commission for the Clarification of Truth, Coexistence and Non-Repetition (CEV) and the High-Level Instance for the follow-up to the implementation of the gender approach, proposals and recommendations of the women's organisations of victims of the Caribbean region, and to strengthen the work of women and victims so that they can participate in the Integral System and in peacebuilding.
As part of the agenda, the CAPAZ Science Collaborator, Juliana González Villamizar, will present the project on truth commissions in Peru and Colombia. International researchers from the Pontificia Universidad Católica del Perú will also participate.
Admission is free with prior registration through the online form
Download the forum agenda (in Spanish)
More information and contact:
Cider – Centro Interdisciplinario de Estudios sobre Desarrollo //cider@uniandes.edu.co// Tel: (57-1) 339 4949 Ext.: 2665-2656
Instituto CAPAZ – juliana.gonzalez@www.instituto-capaz.org
(Text: Claudia Maya, English version: Tiziana Laudato)