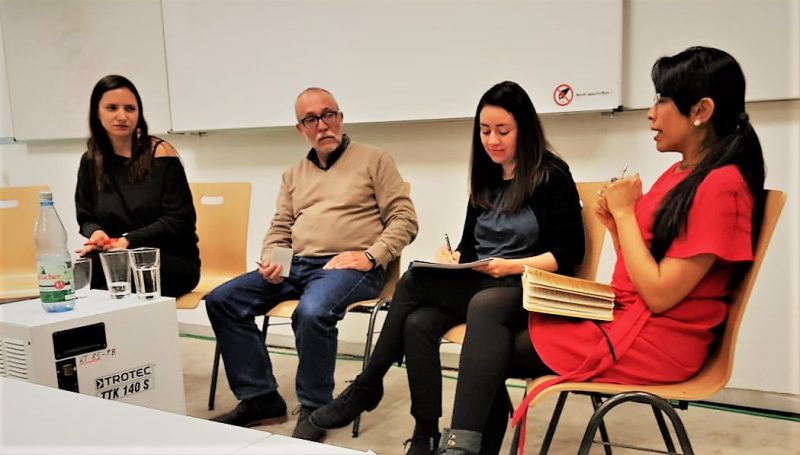 Juliette Vargas' academic stay in Germany
In May 2019, the science collaborator for CAPAZ and CEDPAL (Centre for the Study of Criminal Law and Criminal Procedure) at the University of Göttingen, Juliette Vargas participated in different academic events in Germany, related to her doctoral research under the tutelage of Prof. Dr. Kai Ambos.
Lecture in Göttingen
In her lecture: "Dilemmas of victims' participation in traditional justice: The case of the JEP in Colombia" in Göttingen, Juliette Vargas explained some general issues related to the participation of victims in international criminal tribunals in contexts of transitional justice. Specifically, she focused on the dilemmas in this regard before the Special Jurisdiction for Peace (JEP) in Colombia. The event took place on May 14, 2019 and was organised by CAPAZ and CEDPAL.
Roundtable on Transitional Justice in Colombia
In Giessen, Juliette Vargas shared a panel with Dr. Francisco Cortés Rodas and Catalina Ibañez, moderated by Dr. Rosario Figari Layús during the event on transitional justice in Colombia. Her presentation generically explained the regime of victims' participation in international criminal law and its evolution. She then focused on the participation rights of victims before the JEP in Colombia, and the difficulties and challenges for its implementation. The event took place on May 15, 2019 and was convened by CAPAZ and the Chair of Peace Studies at Justus Liebig University Giessen.
Academic activities in Berlin
Juliette Vargas was invited to present her doctoral research at the colloquium organised by the Institute for Latin American Studies (LAI) at Freie Universität Berlin. PhD students participated with research on Colombia developed from different approaches and disciplines. The colloquium was guided by Prof. Dr. Marianne Braig, Dr. Kristina Dietz, and Professor Gabriel Ruiz Romero.
In her talk: "Overview of the rights of victims in the current context of Colombian Transitional Justice", Juliette Vargas explained the structure of each of the components of the Integral System of Truth, Justice, Reparation and Non-Repetition (SIVJRNR) in Colombia, and the rights of victims and their possibilities of participation before each of the components. She also examined experiences of victims' participation before the SIVJRNR. This event was organised by the Forschungs-und Dokumentationszentrum Chile-Lateinamerica e.V. – FDCL.
(Text: Juliette Vargas, Claudia Maya. English version: Tiziana Laudato)