Nature as a victim: CAPAZ opinion column in Colombia+20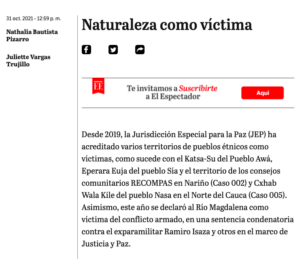 CAPAZ is producing a series of audio-visual materials in the framework of our Education and Science Diplomacy project, which resulted from one of the three most successful experiences in science diplomacy awarded by the German Federal Ministry of Education.
The second CAPAZ opinion column in the framework of this project is entitled "Nature as a victim". In this one, CAPAZ Science Collaborator, Juliette Vargas, co-wrote a text with Natalia Bautista from Universidad Externado in which she explains the implications of the Special Jurisdiction for Peace having accredited certain territories belonging to ethnic communities as victims of the armed conflict, within the framework of cases 02 and 05.
"The accreditation of natural entities as victims conveys an important message: crimes committed during the war have serious effects on nature that must be sanctioned, and they cause damage that deserves to be repaired, both materially and symbolically" explained the researchers.  
Find out more about the first instalment of this series of columns, in which CAPAZ Academic Director, Prof. Dr. Stefan Peters, analysed what is coming for Colombia after Angela Merkel's mandate in Germany.
Stay tuned for more content and productions coming soon as part of our Science Diplomacy project. Click here for details
(Cover photo: Colombia+20)