Philipps-Universität Marburg becomes a CAPAZ partner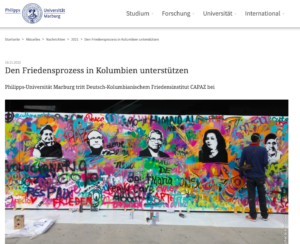 The recently linked with CAPAZ, Philipps-universität Marburg, published an article entitled "Support for the peace process in Colombia" (Den Friedensprozess in Kolumbien unterstützen), in which it highlights the fact that Philipps-Universität Marburg took advantage of the fifth anniversary of the signing of the peace agreement to join the CAPAZ Institute as an associate member in November 2021. More than 20 Colombian and German universities are currently participating in the consortium. Philipps-Universität Marburg's membership is based on many years of commitment and stable cooperation between academics in Marburg and Colombia.
Read the full article here (in German).
Prof. Dr. Anika Oettler commented that "the partnership is also intended as an urgent appeal to the future German government to continue to support the peace process in Colombia. Dr. Oettler heads a research team that studies how reconciliation is understood and experienced by different social groups. The team believes that a nuanced understanding of reconciliation in contexts of violence is necessary to further develop tools for peacebuilding and transitional justice.
Another University researcher who has worked in the Cauca, Cesar, and Urabá regions is Prof. Dr. Ernst Halbmayer. Dr. Halbmayer is a social and cultural anthropologist and has researched how local conceptions and practices of security or ways of combating insecurity have changed.