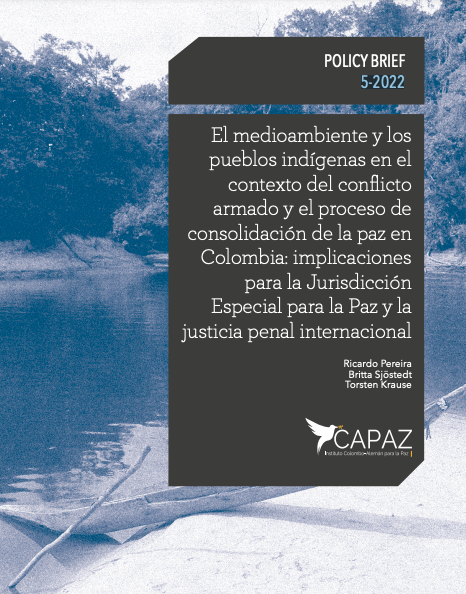 The new capaz Policy Brief: Indigenous peoples, territories, and peace initiatives in international criminal justice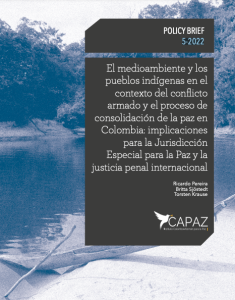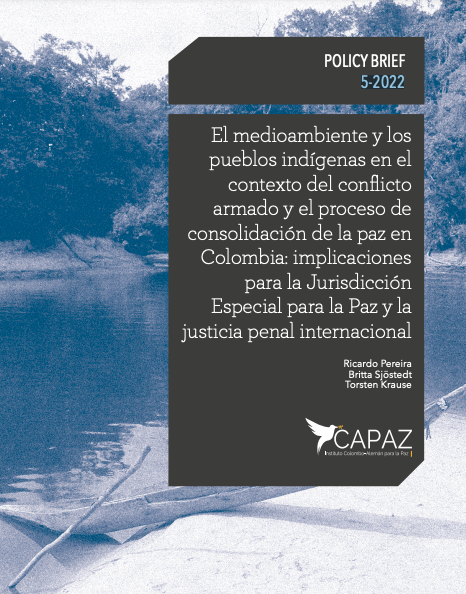 The most recent CAPAZ Policy Brief is called The environment and indigenous peoples in the context of the armed conflict and the peacebuilding process in Colombia: implications for the Special Jurisdiction for Peace and international criminal justice.
"The objective of this Policy Brief is to assess the impact of the armed conflict in Colombia on the environment and indigenous peoples, and the application of the norms of IHL and international criminal law (IPL) to this conflict, as well as their implications for the Special Jurisdiction for Peace (SJP) and international criminal justice. It addresses the implications of the armed conflict and the peacebuilding process for indigenous peoples' rights and environmental protection in Colombia, and provides a brief background to the creation of the JEP".
This Policy Brief is part of the CAPAZ Línea Azul publications, which includes academic works related to the Comprehensive System of Truth, Justice, Reparation and Non-Repetition (SIVJRNR).
Authors
Associate Professor at Cardiff University, UK, and Adjunct Research Associate Professor at the Asia-Pacific Environmental Law Centre, National University of Singapore. PhD in Law from the University of Essex, UK, and LLM in International Law from the University of London. Author of numerous publications on environmental criminal law, international law, and human rights. Recent research interests include the development of the crime of ecocide under international law and participatory governance in environmental criminal law enforcement. pereirar1@cardiff.ac.uk
Professor of environmental law and public international law at Lund University, Sweden. Her research interests include environmental protection, armed conflict, environmental peacebuilding and environmental security. She is a founder and board director of the Environmental Peacebuilding Association and co-chair of the association's Law Interest Group. She is a member of the International Law Association's committee on the role of international law in the sustainable management of natural resources for development.
britta.sjöstedt@jur.lu.se
International Business Administrator from the European University Viadrina, Germany, and the Montpellier Business School, France; Master's in Environmental Studies and Sustainability Sciences and PhD in Sustainability Sciences from Lund University, Sweden, where he is currently a professor. He has worked in Chile, Ecuador, Nigeria and Spain. His research interests include forest governance and natural resource management in post-conflict Colombia. torsten.krause@lucsus.lu.se
Access the Policy Brief 5-2022 (.pdf) in Spanish.