The works of Laura Jiménez in the second season of the "Voices in Exile"
The second season of the "Voices in Exile" podcast is dedicated to Colombians from the art world living in Germany. In this installment Lorena Díaz talks with Laura Jimenez, German-based Colombian performer and director. Laura studied at the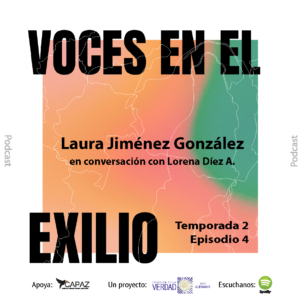 Academy of Performing Arts in Bogota and holds a master's degree in Intercultural Conflict Management from the Alice Salomon Hochschule in Berlin. In this conversation, Lorena and Laura talk about "Tríptico Femenino", a performance with victims of the Colombian armed conflict and "in Between", staged in October 2021 at the Maxim Gorki Theater as part of the "Rough and Dirty" format.
Tríptico Femenino is an an audiovisual narrative that tells the story of four women who, despite having experienced the armed conflict at close quarters, have all had very different ordelas. There is a woman whose mother was disappeared in the seizure of the Palace of Justice, a mother of a false positive, the daughter of a murdered father and a former FARC combatant. The women came together to write and relate their experiences and from these meetings emerged Tríptico Femenino, a play that confronts the audience with the realities of the Colombian conflict by involving them in participatory scenes.
For more information about Laura's projects, go to: https://www.laurajimenezgonzalez.com/
You can listen to the full episode on your favorite platform: Spotify, Apple Podcasts, Anchor, among others!
Spotify / Anchor (both chapters are in Spanish)
Nodo Alemania, the German support group to the Colombian Truth Commission, is backed by CAPAZ through its activities, events and communication resources. About fourteen nodes in Europe promote the mandate of the Truth Commission.
Find out more at: www.comisionverdadcol-eu.org