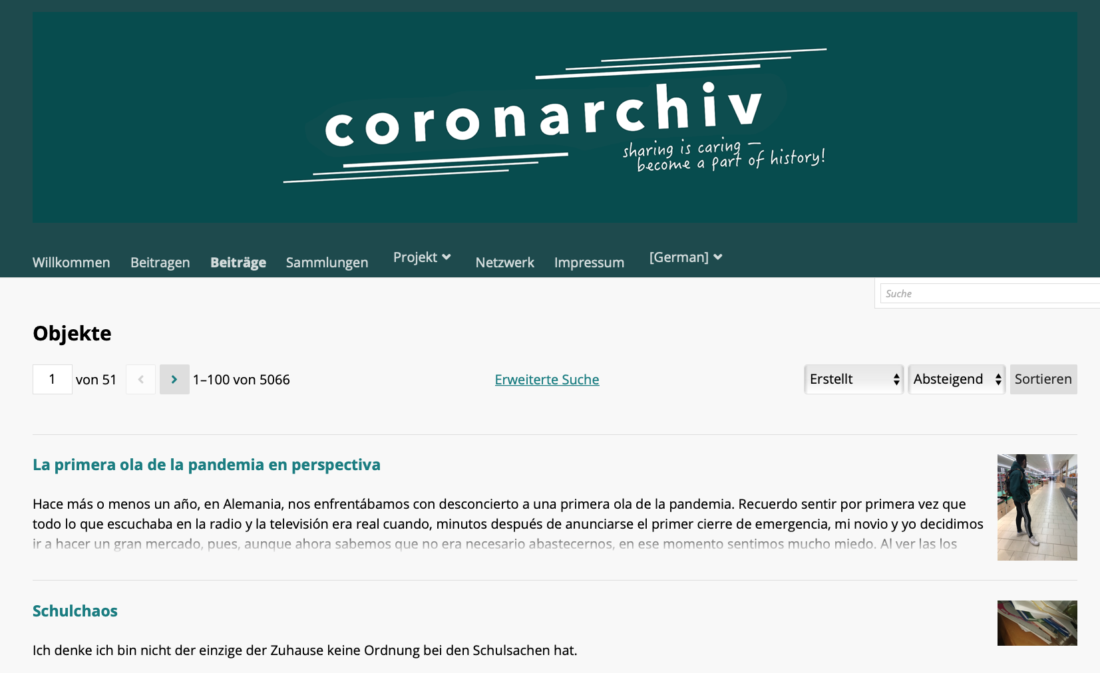 German universities keep their finger on the pulse of the current pandemic with the "Coronarchive"
Three German universities in Hamburg, Bochum and Giessen —the latter, a CAPAZ founding member— have set up the "Das coronarchiv" (The Coronarchive) project to collect and record personal experiences resulting from the COVID-19 pandemic.
This public history project, labelled with the slogan: "Sharing is caring – become a part of history" is an open access web portal accessible to those who wish to help collect, archive, contextualise, and provide information and materials, based on personal memories about the coronavirus crisis. In principle, it welcomes materials and resources that can be digitalised and published, such as diaries, texts, letters, e-mails, poems, newspaper and magazine articles, but also purchase invoices, advertisements, photos, drawings, videos, audios, songs, chats, and social media posts.
The Coronarchive collaborates with similar initiatives around the world, among which the Coronarchive project led by Universidad Nacional de Colombia, also a CAPAZ partner university.
Why put together a coronavirus file?
As an open portal, the idea of the initiative is simple: a diverse society requires diverse and multiple memories. Access to history and narratives of the past is not always equitable, which is why we need to start building a history of what happened during this pandemic, based on different voices and experiences. In the long term, this broad and diverse documentation available through "Das Coronarchiv" could contribute to the plurality and diversity of future memory.
CAPAZ and the coronavirus
In 2020, CAPAZ advanced a series of initiatives to motivate reflection, discussion and analysis around the COVID-19 pandemic, specifically in the context of peacebuilding and the implementation of the agreements signed in 2016. This gave rise to the web series of twelve video-columns entitled "Peace, now more than ever" through which voices representing academia, peace institutions and civil society organisations shared impressions and opinions on various aspects of peacebuilding in the midst of the pandemic.
You can watch all episodes of the "Peace now more than ever" series on the CAPAZ Youtube channel.
In May of the previous year, CAPAZ organised a public online event involving researchers, representatives of the German and Colombian governments and the President of the Truth Commission to discuss the effects of the then emerging pandemic on the implementation of the peace accords.
Read the review of "The peace process in times of coronavirus: challenges for Colombia":
Español / English
You can also read Policy Brief 1-2021 on the Comprehensive System in the pandemic published by the CAPAZ Línea Azul academic publication series.
Further information and contact
Learn about the "Das Coronarchiv" archive initiative and how to participate in it through its web portal (in German, English, Spanish and Portuguese).
Check the factsheet (.pdf, in Spanish) here or on its associated social networks:
E-mail: info@coronarchiv.de
(NW: Claudia Maya. English: Tiziana Laudato)