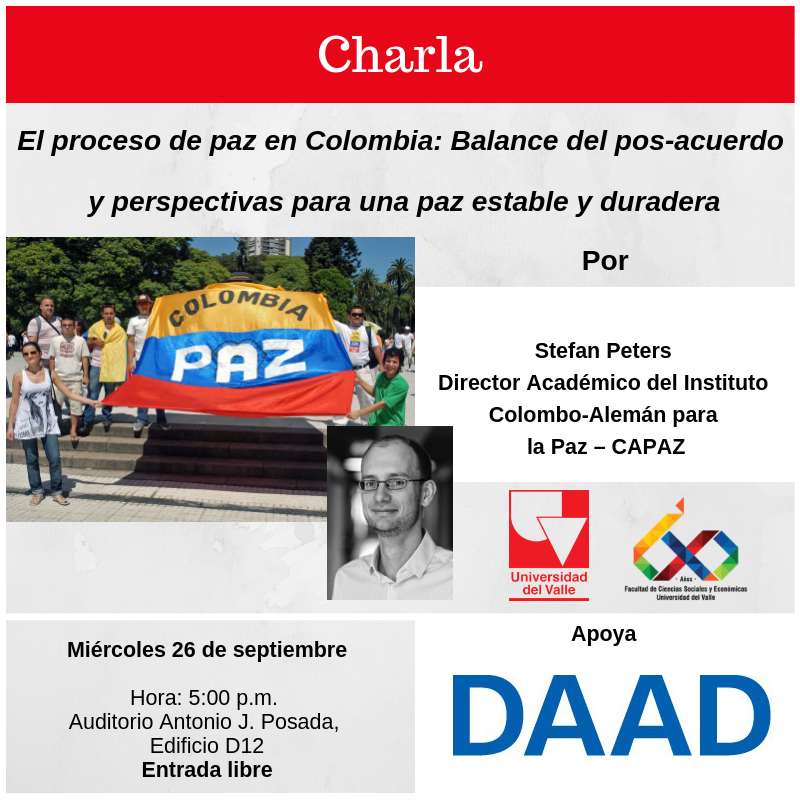 CAPAZ Academic Director holds lecture at Universidad del Valle
The German-Colombian Peace Institute – CAPAZ is pleased to announce Prof. Dr. Stefan Peters' lecture at Universidad del Valle in Cali, Colombia.
Prof. Dr. Peters' lecture "El proceso de paz en Colombia: Balance del pos-acuerdo y perspectivas para una paz estable y duradera" will take place on September 26, 2018 at 5:00 p.m. (Auditorio Antonio J. Posada, Edificio D12). Admission is free of charge. After the lecture will be a discussion with the participants.
The academic event at Universidad del Valle is one of the activities of CAPAZ representatives in different Colombian cities, including lectures, meetings and presentations of CAPAZ' work, in order to exchange with higher education institutions and researchers in different regions in the country.
Further information here (in Spanish).
Contact:
Área de Comunicaciones, Facultad de Ciencias Sociales y Económicas – Universidad del Valle