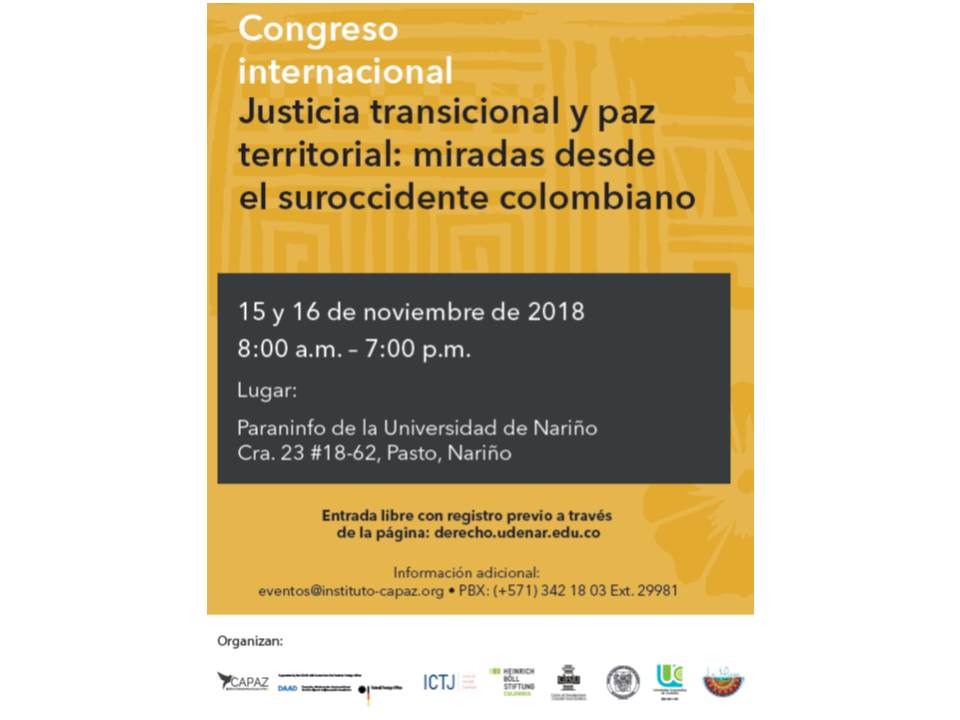 CAPAZ INTERNATIONAL CONFERENCE ON TRANSITIONAL JUSTICE AND TERRITORIAL PEACE IN PASTO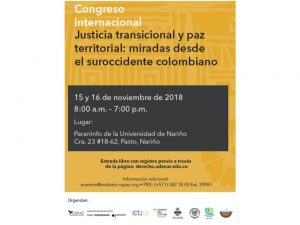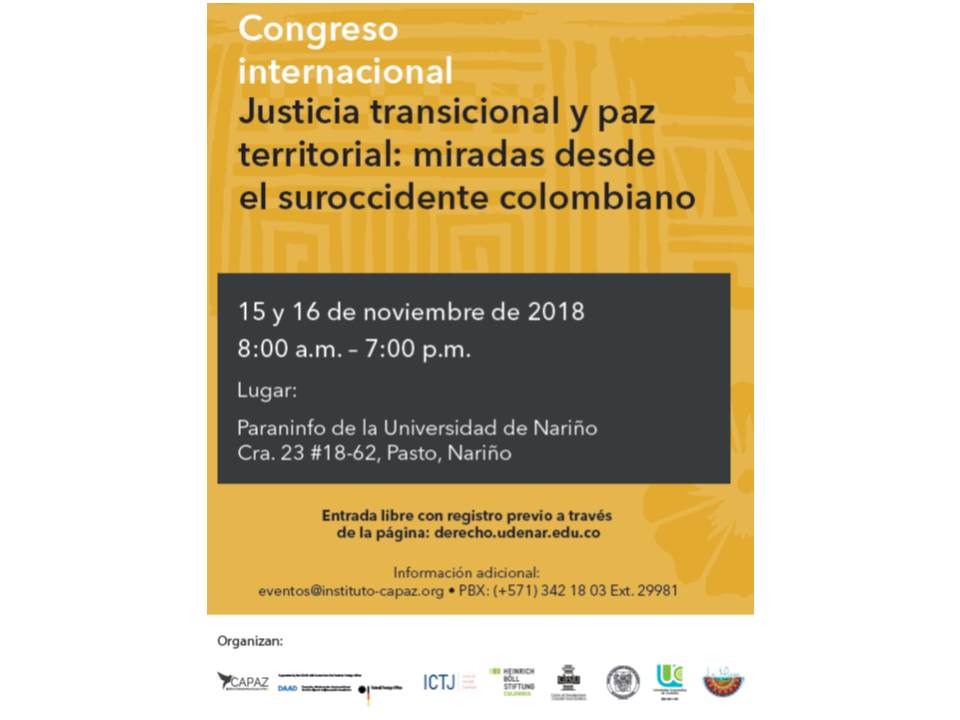 The Colombian south-west was and still is the scenario of complex dynamics during the armed conflict and after the signing of the Final Agreement between the Colombian government and the guerrilla group FARC-EP.
The CAPAZ Institute, together with universities and institutions working in this region, has organized an international conference in order to promote the discussion about these dynamics.
The international conference "Transitional Justice and Territorial Peace: Views from south-west Colombia" will take place on November 15 and 16, 2018 (8:00 am – 7:00 pm) in the Paraninfo of the Universidad de Nariño, in the city of Pasto.
Admission is free of charge and register is required at: derecho.udenar.edu.co
The conference is an invitation from CAPAZ, the Research Center for Socio-Legal Studies (Centro de Investigaciones y Estudios Socio-Jurídicos  CIESJU) at Universidad de Nariño, International Center for Transitional Justice (ICTJ), Heinrich Böll Foundation Colombia, Universidad Cooperativa de Colombia in Pasto and the research group La Minga at this university.
In 2017, CAPAZ supported the exploratory research led by German and Colombian researchers that were focussing on the situation of ex-combatants in some municipalities of Nariño and Cauca.
Based on the findings of the research project, CAPAZ's first Policy Brief was published in 2018. Some of the speakers at the international congress in Pasto participated in the exploratory research carried out in 2017.
You may be interested in: CAPAZ published the first Policy Brief of its publication series
Read the program of the CAPAZ international conference in Pasto, Nariño (in Spanish).
Register under: derecho.udenar.edu.co
Further information and contact: eventos@www.instituto-capaz.org