CAPAZ science collaborator won the Dr. Herbert-Stolzenberg award of the Giessen Graduate center for Social science, Economics, and Law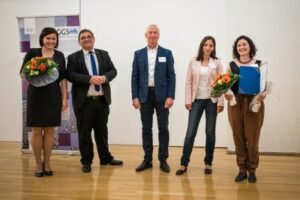 Here at CAPAZ, we are pleased to announce that our Science Collaborator, Juliana González Villamizar, recently won the Herbert-Stolzenberg Prize of the Giessen Graduate Center for Social Science, Economics, and Law.  This is the graduate center at the University of Giessen, where Juliana is currently pursuing her doctoral studies.
The award recognizes her achievements and commitment to the field of peace and conflict studies and her interest in researching transitional justice in Colombia. Specifically, it recognizes her work supporting the Colombian Truth Commission.
The award also highlights Juliana's work in publishing the following articles in collaboration with indigenous and Afro-Colombian activists:
We congratulate our colleague Juliana and hope that she continues to achieve international recognition for her important work in peacebuilding in Colombia.