DFK Association organises online talk by the CAPAZ director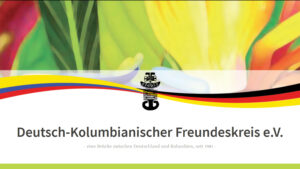 CAPAZ Academic Director and Professor of Peace Studies at Justus Liebig University Giessen, Prof. Dr. Stefan Peters will give a lecture entitled "The Colombian Peace Process at the Crossroads" (original title in German: Der kolumbianische Friedensprozess am Scheideweg), at the invitation of the German Association Deutsch-Kolumbianischer Freundeskreis e.V. (DKF).
The event will be broadcast live on Wednesday, April 7, 2021, at 7:00 p.m. (German time).
Those interested can listen to in Prof. Peters' online talk via the link to the DKF YouTube channel.
The conference will focus on the current situation of the peace process in Colombia, the possibilities and limitations of promoting peace from politics and civil society. 
Find out more: https://www.dkfev.de/​ / Facebook
Note: CAPAZ are not organising the event, to find out more, please contact the coordinating institution directly.
(NW: Claudia Maya, from the DKF Website. English: Tiziana Laudato)