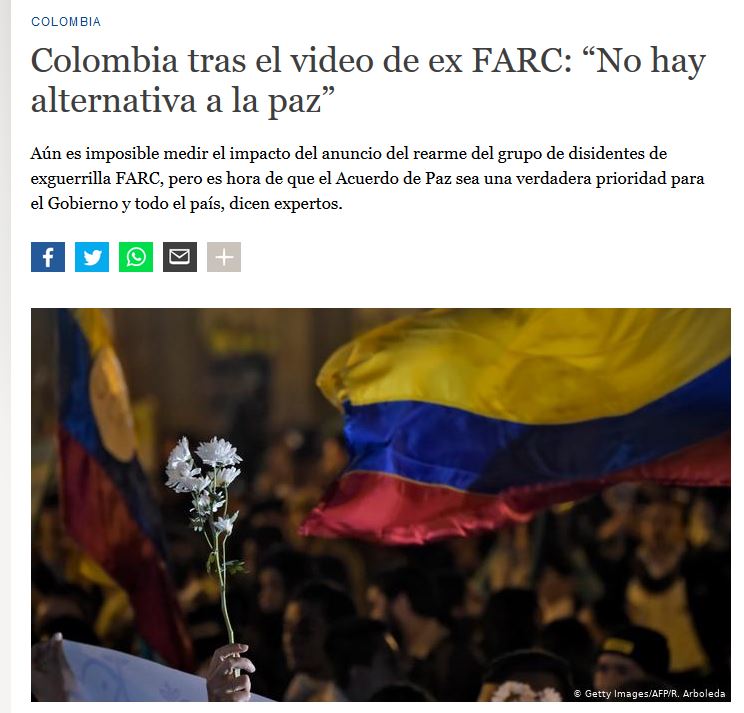 COLOMBIA AFTER EX FARC'S VIDEO: "THERE IS NO ALTERNATIVE TO PEACE"
"It is still impossible to measure the impact of the announcement of the rearmament of the dissident FARC group, but it is time for the Peace Agreement to be a real priority for the government and the entire country, say experts".
One of them was CAPAZ Director, Prof. Dr. Stefan Peters, who in an interview with the German channel Deutsche Welle referred to the situation in Colombia as follows: "There is no alternative to peace". If the Government of Colombia wants to promote the development it is aiming for, it can only achieve it if it assumes peace as a real priority".
Read the full interview (in Spanish).
Colombia after former FARC video: "There is no alternative to peace", Deutsche Welle (José Ospina-Valencia, August 30, 2019) interview with Prof. Dr. Stefan Peters. Recovered from: [https://bit.ly/2L96wTZ]
(Text: Claudia Maya. English version: Tiziana Laudato)