Feminist Foreign Policy: Photos of the visit of Min. Analena Baerbock in Colombia
On June 8, we were in Cali for a very special event. CAPAZ organized a panel on the topic of feminist foreign policy at Museo de La Tertulia, in connection with the visit of the German Foreign Affairs Minister, Analena Baerbock.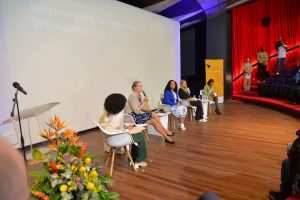 The panel was opened by the Tamboreras del Cauca and the following took part in the conversation:
Elizabeth Taylor Jay (Vice Minister of Foreign Affairs Colombia)
Johanna Bahamóm (Internal Action Foundation)
Naya Nidiria Ruiz (AINI)
Annette Walter (Director for Latin America and the Caribbean, German Ministry of Foreign Affairs).
Indira Murillo (CAPAZ) was the moderator.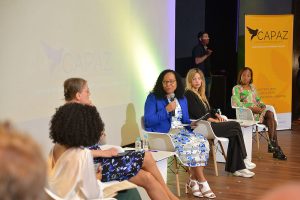 The Minister's visit to Colombia was also intended to present the UNIDAS award to the Vice President of Colombia, Francia Márquez.
Here are some photos of the award ceremony where Francia Marquez was acknowledged for her efforts to embody the foreign policy proposed from Germany in her political career and her social struggle.