International Conference "Transitional Justice and Education Policy on Memory"
31th October – Universidad de los Andes / 1th November – Universidad del Rosario
The German-Colombian Peace Institute – CAPAZ and the Georg Eckert Institute for International Textbook Research (GEI) are pleased to invite to the international conference and workshop "Justicia Transicional y Políticas Educativas de la Memoria" (Transitional Justice and Education Policy on Memory). The conference will be hosted by the Universidad de Los Andes on the 31th October and by the Universidad El Rosario on the 1th November in Bogotá.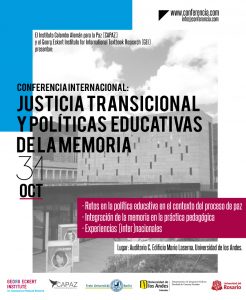 At the conference, national and international experts will discuss the challenges of  educational policy in the context of the peace process, the integration of memory in the pedagogical practices, and the exchange of (inter-) national experiences.
On 31th October the conference's program includes three panels. Topics for discussion will be the education on peace, memory and citizenship; the teaching of history and the conflict transformation. The conference day is open to the public.
On 1th November two roundtables will focus on the peace deal, issues in education policy of memory and its implementation in the classroom. The second day is a closed-door event for academics of the explorative project "Transitional justice and education policies for the memory", supported by CAPAZ, and will be held at the Jockey Club of the Universidad del Rosario.
***
Conference schedule and online registration:
http://www.urosario.edu.co/Home/Principal/Eventos/Justicia-Transicional-y-Politicas-Educativas-de-la/
 Contact:
Mónika Contreras Saiz, monikacs@zedat.fu-berlin.de
Tatjana Louis, tlouis@uniandes.edu.co
Laly Peralta, laly.peralta@urosario.edu.co