Lecture of CAPAZ Academic Director in Ibagué on social inequalities and peace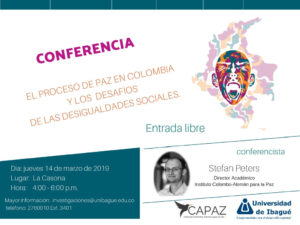 The CAPAZ Institute and the Universidad de Ibagué are pleased to announce the lecture of its Academic Director, Prof. Dr. Stefan Peters entitled "The Peace Process in Colombia and the Challenges of Social Inequalities", which will take place on March 14, 2019, from 4:00 p.m. to 6:00 p.m. at the Universidad de Ibagué.
The lecture is open to the public with free admission.
This is the first lecture that Dr. Peters holds at the Universidad de Ibagué this year. The lecture will discuss the relationship between social inequalities and the peace process in Colombia. Overcoming social inequalities is a big challenge in order to establish a lasting and sustainable peace in the country.
The Universidad de Ibagué is one of the ten associate members of the CAPAZ Institute (You may be interested: "Instituto Capaz officializes Unibagué as its new associate"/ in Spanish).
Contact and further information: investigaciones@unibague.edu.co