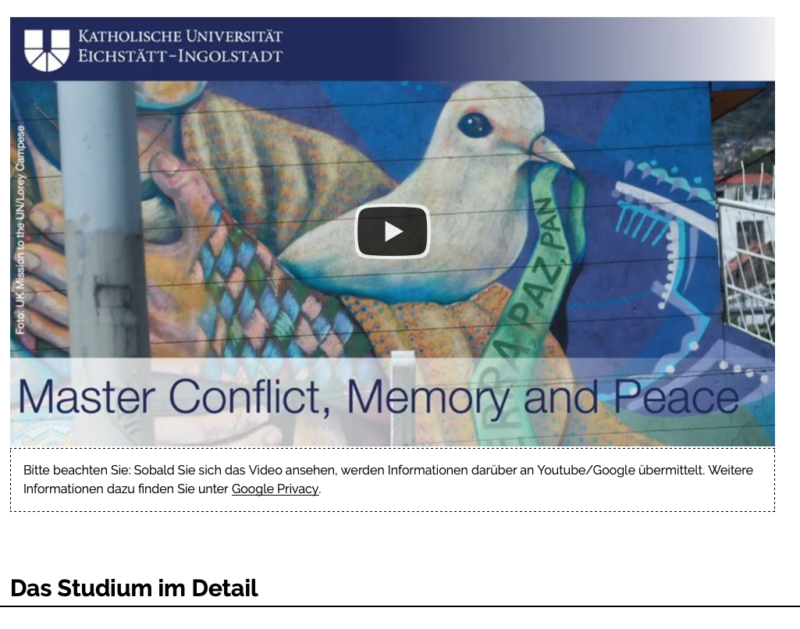 Double Master's degree programme at Universidad del Rosario and KU eichstätt-ingolstadt for the 2021/2022 winter semester
CAPAZ partners Universidad del Rosario in Colombia and the Katholische Universität Eichstätt-Ingolstadt in Germany have joined forces to offer the binational Master's programme: Conflict, Memory and Peace. This high quality academic programme will run during the 2021/2022 winter semester.
The curriculum is designed to develop analytical and practical research skills in conflict and peace studies. A distinctive aspect of this binational academic programme is the component on memory, from which the foundations of research on issues of historical memory are addressed. The programme cuts across disciplines such as political science, sociology, law, history, philosophy, theology, romanticism and social work. 
The Master's programme is designed to be international, i.e., with student exchanges between Germany and Colombia, enabling them to develop their intercultural and linguistic skills. The thematic focus on Latin America is acquired through both theory and practice by students exchanging experiences, ideas and paradigms.
Further information, deadlines and application conditions at the programme website (in German)
Download the fact sheet (.pdf, in German)
Note: CAPAZ is not the organizer for the academic programme. For further information, questions and applications, please contact the programme organisers directly.
(NW: Claudia Maya. English: Tiziana Laudato)