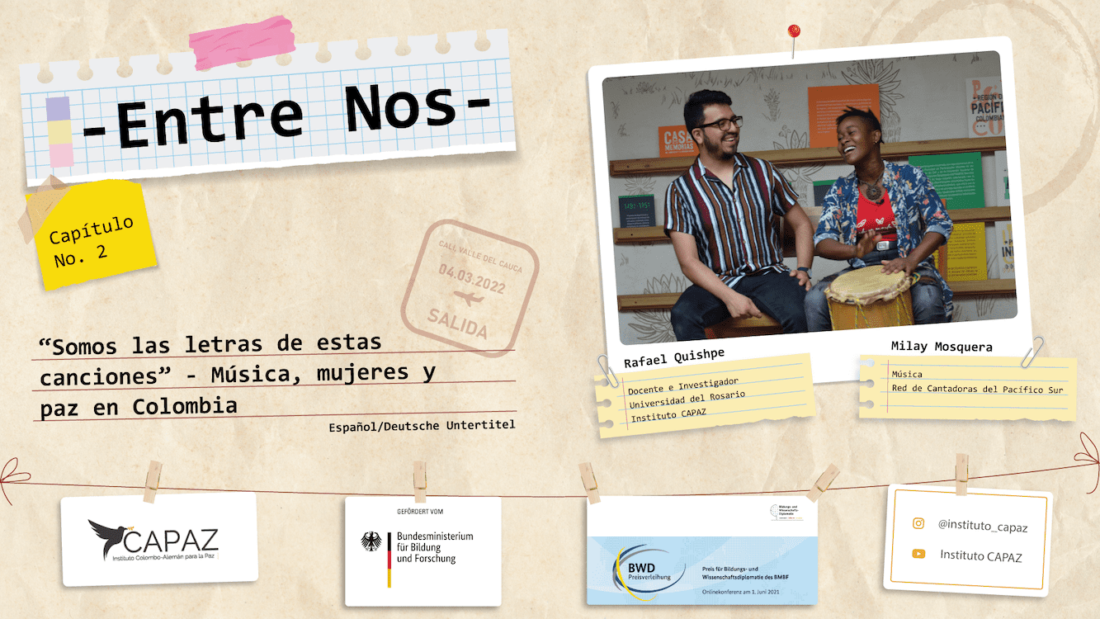 New chapter of Entre Nos: "We are the lyrics of these songs" – music, women, and peace in Colombia
This is the second chapter of #EntreNos, our Education and Science Diplomacy project web series!
In this chapter, Rafael Quishpe (CAPAZ Science Collaborator and researcher at Universidad del Rosario) and Milay Mosquera (Musician and representative of the Red de Cantadoras del Pacífico Sur) sat down to talk about the music of the pacific, the vindication of black women in cultural spaces, and music as a possibility for forgiveness and reconciliation.
"Music heals. We the women of the pacific heal and forgive through music. The alabaos are so strong because it's all there… we can get it all out. It is our way of saying: I have already forgiven" – Milay Mosquera.

"I have researched the role of music in the armed conflict because I believe that in Colombia, we need to understand those songs that have been composed in the context of the armed conflict. Music has served to endure and to narrate what has happened" – Rafael Quishpe.
We invite you to follow the conversation about the relationship between music and peacebuilding on our Instagram page: @Instituto_Capaz