Truth Commission and CAPAZ dialogue on resilience in the midst of conflict and inequality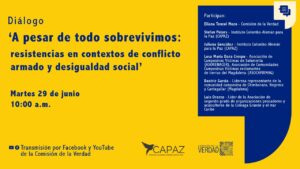 CAPAZ Academic Director, Prof. Dr. Stefan Peters, and CAPAZ Science Collaborator, Juliana González, have been invited to the online discussion organised by the Colombian Truth Commission. The debate will address resistance in contexts of armed conflict and social inequality.
Other participants include leaders and representatives of peasant and indigenous organisations in Colombia.
The event will be held on Tuesday, June 29, 2021 at 10:00 a.m. (Colombia time) and will be broadcast live on the Commission's YouTube and Facebook channels.
(NW: Claudia Maya. English: Tiziana Laudato)