SPOTLIGHT ON PEACE CALENDAR CONTINUES IN NOVEMBER AND DECEMBER 2018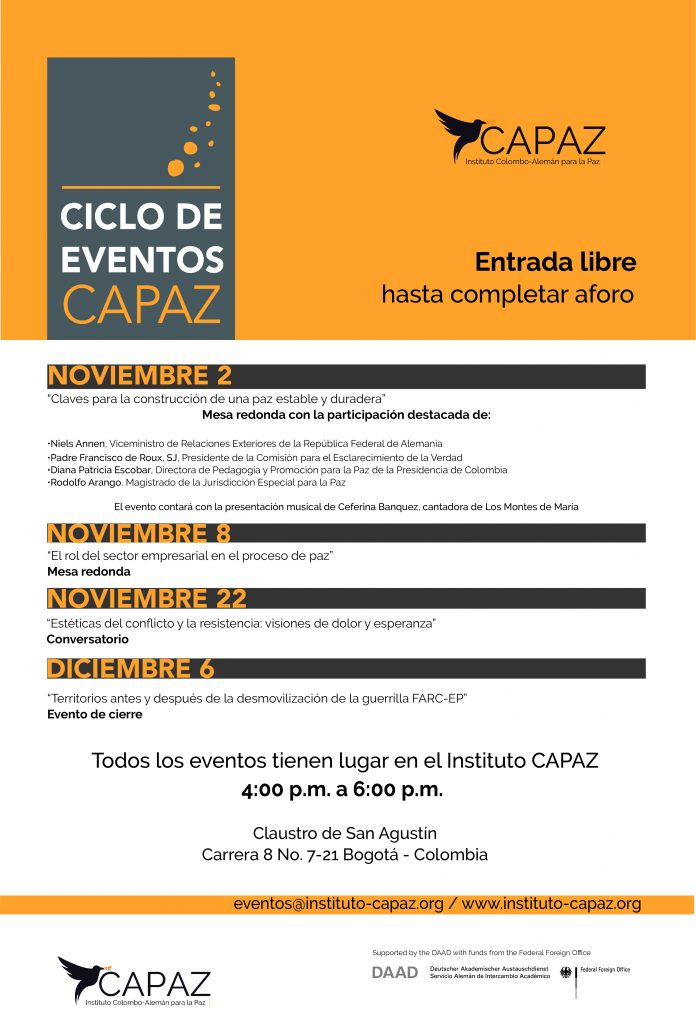 The next event of the Spotlight on Peace Calendar of the CAPAZ Institute will be the roundtable "Keys for a sustainable peace". The discussion will take place on Friday, November 2, 2018 at 4:30 p.m. at the CAPAZ Institute in the Claustro de San Agustín in Bogota, Colombia (Carrera 8 No. 7-21). The event is organized by CAPAZ and the German Embassy in Colombia and will be free of charge, like the other CAPAZ events.
Special guest will be Niels Annen, Minister of State at the Federal Foreign Office, who is visiting Colombia. Panelists will also include Francisco de Roux, SJ, President of the Truth Commission; Diana Patricia Escobar, Director of Pedagogy and Promotion for Peace of the Presidency of Colombia; and Rodolfo Arango, Magistrate of the Special Jurisdiction for Peace.
During the event the public will have the pleasure of attending the concert by Ceferina Banquez, folklore Colombian singer from Los Montes de María.
The Spotlight on Peace Calendar continues in November 2018 with a discussion on the role of the entrepreneurship sector in the peace process in Colombia. The roundtable on this issue will take place on November 8, 2018. Two weeks later, on November 22, will take place the discussion on the aesthetics of the conflict, from the audiovisual and photographic perspective.
The last event will take place on December 6, 2018 on the problems in the territories before and after the demobilization of the ex-combatants of the FARC-EP guerrilla.
For further information on the Ciclo de Eventos CAPAZ please contact to us: