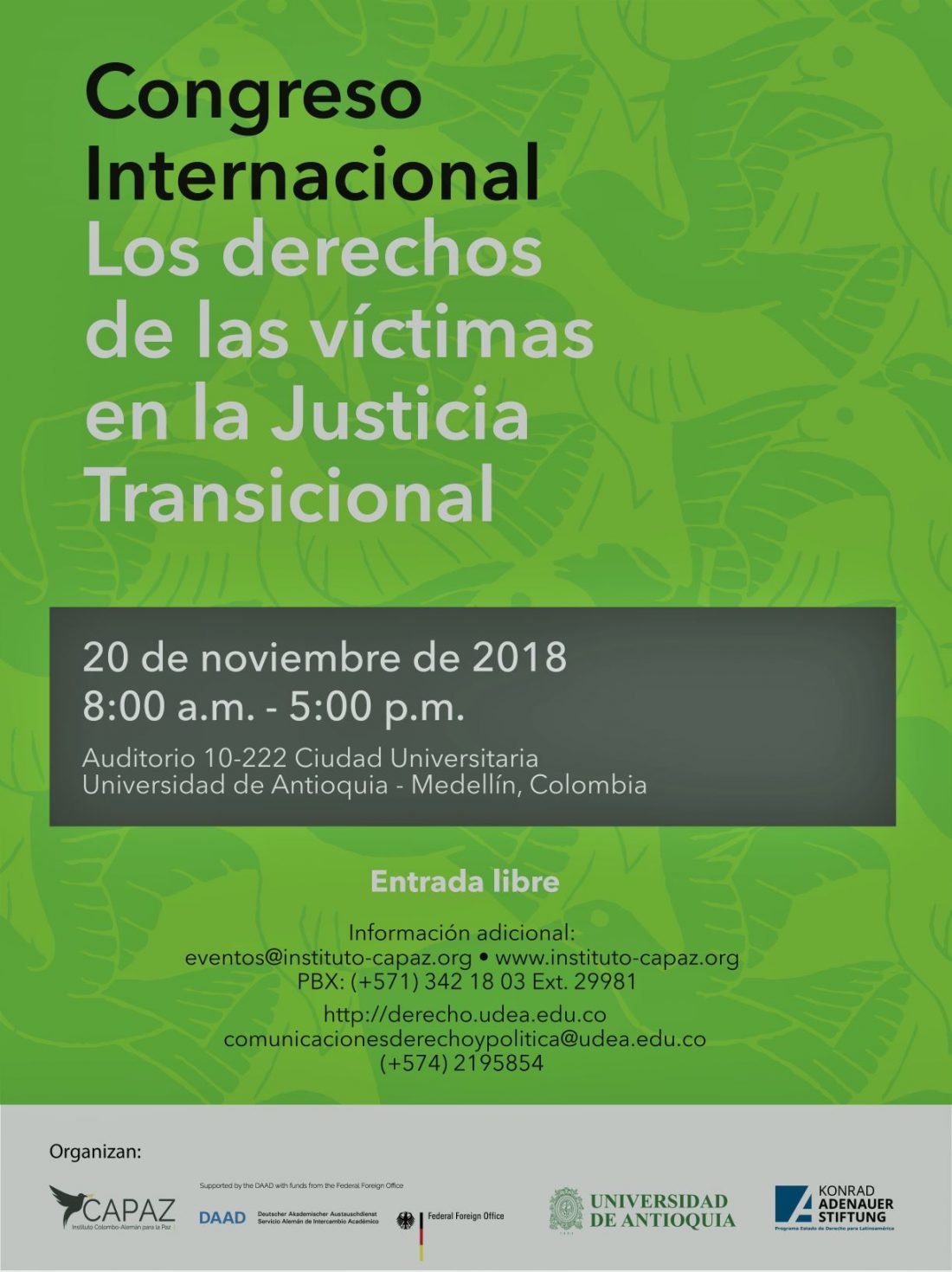 THE RIGHTS OF VICTIMS: A CENTRAL TOPIC AT THE INTERNATIONAL CAPAZ CONFERENCE AT UNIVERSIDAD DE ANTIOQUIA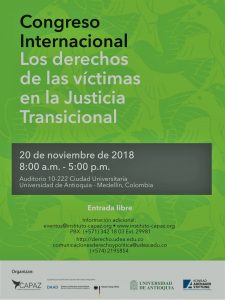 The central nature of the rights of the victims has been the main slogan of the Final Agreement signed between the Colombian government and the FARC-EP. Together with reconciliation, the recognition of the rights of the victims is the fundamental pillar of any process of Transitional Justice in the world.
The CAPAZ Institute, Universidad de Antioquia, and the Fundación Konrad Adenauer Stiftung Rule of Law Programme Latin America invite those interested to the International Conference "The rights of the victims in Transitional Justice".
The event will take place on Tuesday November 20, 2018, from 8:00 a.m. to 5:00 p.m. in Auditorium 10-222 of the Ciudad Universitaria at Universidad de Antioquia in Medellín, Colombia. Entry is free but those interested in attending must register using the form below.
Victims in Transitional Justice
The Colombian conflict has left over 8 million victims, but beyond the statistical information, the figure sheds light on both the devastating dimensions of the violence in our country, and on the complexities and challenges which the Transitional Justice process will have to face to satisfy the rights of victims.
Given the importance of the topic, the conference will host representatives from academia and civil society organisations, as well as experts in Transitional Justice and conflict to present and exchange their knowledge, experience, and concerns regarding topics such as the right to truth, justice and reparation, differential approaches, memory building, and reconciliation.
You can red the preliminary academic programme of the Conference in Medellín (in Spanish).
Entry is free. Please register using this form
Further information and contact:
CAPAZ Institute: (+571) 432 1803 Ext. 29981 –  eventos@www.instituto-capaz.org
Universidad de Antioquia: (+574) 2195854 – Website: derecho.udea.edu.co – comunicacionesderechoypolitica@udea.edu.co