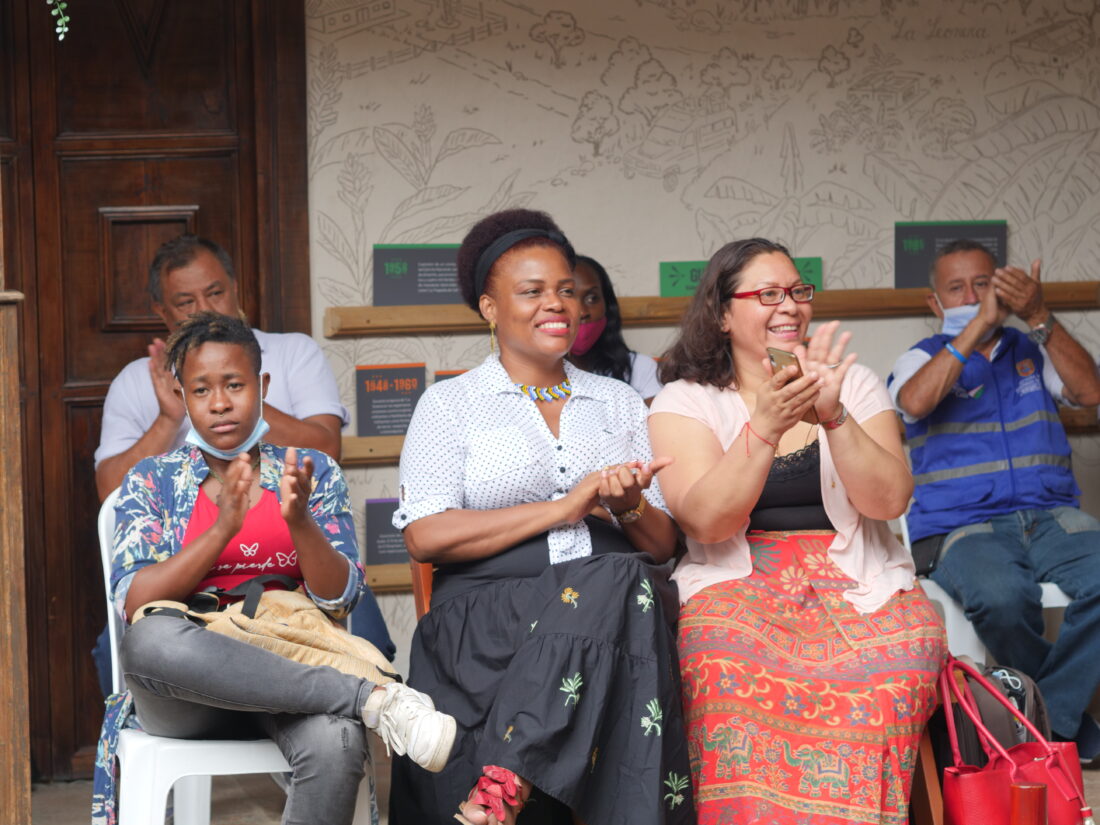 This was the CAPAZ Slam 2021 in Cali, Colombia
As part of the Education and Science Diplomacy project, we start 2022 by remembering the best of 2021. The CAPAZ Slam was undoubtedly one of those moments.
Last December, we held the first of these meetings in Cali, Colombia, when, at Casa de las Memorias, we learned about four research and peacebuilding initiatives on memory, truth, coexistence and peacebuilding. These were implemented in Cali and in the Pacific region.
What is the CAPAZ Slam?
Those of us working on the Education and Science Diplomacy project firmly believe that we must make known, share, and discuss the knowledge, experiences, and findings of those who dedicate their academic vocation and their collective work to these issues. So how do we get this knowledge out of the university, out of the auditorium, out of the usual academic conferences and events and into the public domain? All of the above are ways of disseminating, communicating, and exchanging knowledge, but with the CAPAZ Slam we want to go further: we want to go where academia does not always extend to. And to do so, we need to present this knowledge in a way that is approachable, entertaining, conversational, and creative.
Those taking part in the CAPAZ Slam present their research and social construction projects on conflict
and peace in front of an audience, exploring other paths, and by doing so, allow science, research, and peace education to enter the stage. We hope that more people will be as enthusiastic about the CAPAZ Slam as we are.
The first CAPAZ Slam in Cali, Colombia
The participants interacted through music, community theatre, and oral tradition, in a space charged with memories, ancestry, resilience, and feminine power.
Thanks to all the participating initiatives, the public, Casa de las Memorias, the CAPAZ team, and Cali's Secretary of Peace and Citizen Culture for making this event possible.
The CAPAZ Slam initiatives include:
The "Arts for Reconciliation" workshop is an action-research project led by a collective of socially committed art students. The project is intended to foster empathy and reconciliation between human beings around the world, and between human beings and the Earth. Project members use creativity in all its forms to build spaces for healing the wounds of inner and interpersonal conflicts, and to collectively pursue paths of liberation from unjust social structures.
 The Fundación Cultural Nariñense para el Rescate de los Valores e Identidad – CANAPAVI, is a women's organisation that manages, researches, and preserves the cultural values and manifestations of the South Pacific region.
CANAPAVI was created in 2008 and has been developing the model of the South Pacific Women Singers' Network as a framework that has allowed it to foster a dialogue of knowledge; make the cultural contexts of the South Pacific coast visible; exalt the role of women as bearers and guardians of knowledge; and promote research, dissemination, circulation and community training processes for Marimba Music and Traditional Songs.
The South Pacific Women Singers Network is a forum for dialogue and exchange of knowledge, which uses the region's powerful resources, such as tradition and spirituality, voice and song, as fundamental tools for peacebuilding and allows women singers to become more empowered. It also produces sonorous languages in processes of collective participation that have given them greater leadership in their territories and which they disseminate in different political, social, community and civic arenas, locally, regionally, and nationally.
Fourteen traditional music groups from eight municipalities in Colombia's South Pacific region are
currently involved in this project, which comprises more than 160 women, knowledgeable women, singers, musicians, young emerging musicians, and children who belong to community marimba and traditional music training schools.
More information on the Instagram account of one of the singers, Milay Mosquera: @milaymusic_1
Leyda Noviteño and Eliana Sofía Angulo
 Leyda Notiveño was born in El Charco, Nariño and is a primary school teacher at the Francisco José de Caldas Educational Institution in Buenaventura, which houses students from the Lleras, Paloseco, La Playita and El Jorge neighbourhoods, who are affected by violence. Leyda performs the song "Yo soy la verdad" (I am the truth) for the Colombian Truth Commission for the Pacific region, composed by Eliana Sofía Angulo. Leyda says: "Music has been a haven of peace in my life and has served to denounce all the ways in which our rights are violated by the government and the armed groups in the area. But with music, we rise up and prove every day that we are fighting for a better future for the upcoming generations".
Eliana Sofía Angulo is a sociologist at Universidad del Valle and teaches sociology at Universidad del Pacífico. She coordinates the Buenaventura/Costa Caucana territory of the Truth Commission in Colombia. She is a composer of traditional resistance music from the Pacific and has won awards at the Petronio Álvarez Festival (2005, 2018).
The women of Naya, Buenaventura
 The women of the Naya River are a collective formed in 2017, which spans different generations. The majority of the women are teachers and also savants who transmit the ancestral tradition of alabao, poetry, and song as exercises of ancestry, memory, and the search for truth in the armed conflict.