We are pleased to present you the new brochure of the German-Colombian Peace Institute – CAPAZ!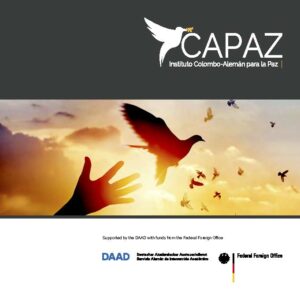 The brochure not only offers detailed information about our institutional profile. It presents our efforts in order to achieve the main purpose of Instituto CAPAZ: Contribute to stablishing the dialogue and exchange between academia, civil society, government institutions and different actors involved with Peace building.
The publication describes the research projects and exploratory studies supported by CAPAZ, the academic schools in Colombia and Germany, the NET-CAPAZ platform for researchers on topics related to peace and conflict studies, as well as the networking, training and advisory activities that CAPAZ plans to carry out soon.
You will find on 13 pages photographs, infographics and entertaining reading contents in the CAPAZ brochure, including the reports of former CAPAZ participants of the schools. We hope that you will enjoy the reading!
If you would like to help us spread the word about Instituto CAPAZ, we invite you to download the publication now available in Spanish and German, and we thank you for sharing it with your contacts!