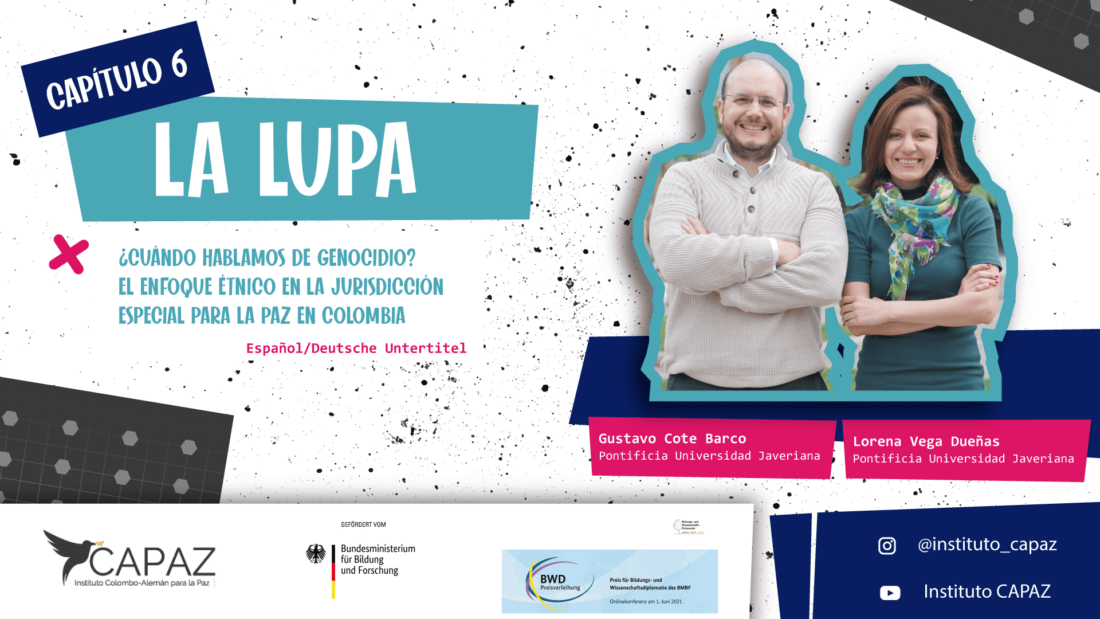 A new chapter of La Lupa! – the ethnic approach at the JEP
This is the sixth chapter of La Lupa, one of the web series of CAPAZ' Education and Science Diplomacy project.
Lorena Vega (assistant professor at the Department of Procedural Law at the School of Legal Sciences at Universidad Javeriana) has dedicated her career to researching issues related to transitional justice, restorative justice, and victims. Gustavo Cote Barco (associate professor at the Department of Criminal Law of the School of Legal Sciences at Universidad Javeriana) focuses his research on international criminal law and its reception in Colombia in contexts of transitional justice.
The study discussed by the researchers is intended to determine the extent to which the international definition of genocide (national and international) protects the cultural identity of indigenous peoples. With its publication, the professors intend to contribute to the discussion on how the JEP should pay special attention to the effects of the most vulnerable population groups, including indigenous peoples. The research is about the Nasa community in Cauca.
As these communities were particularly affected by the conflict from the point of view of their cultural identity, the JEP must reflect on how international norms account for these affectations to their cultural identity. As such, the publication is intended to provide the SJP with theoretical and empirical inputs that will equip them with better tools to participate in this discussion.
This video, like all the videos of the Diplomacy project, has German subtitles and is already on the CAPAZ Youtube cannel