Join Universidad de Antioquia and CAPAZ for "De País en País 2020"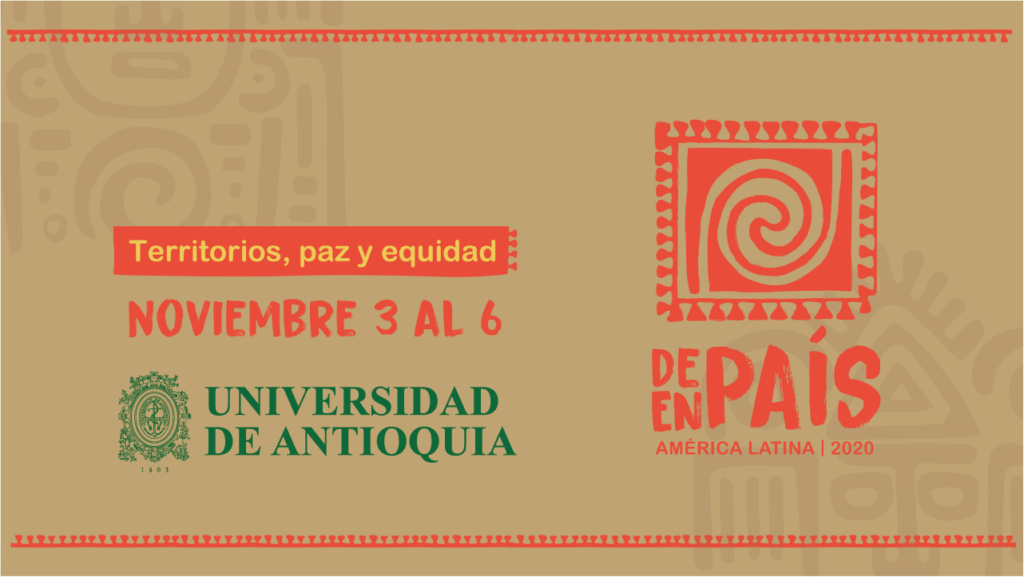 With over 120 activities, between November 3 – 6, the De País en País event will run various events intended to help strengthen Colombia's historically excellent relations with Latin American countries, in terms of academic, scientific and cultural cooperation.
This year's online academic and cultural agenda covers a central theme based on three axes: territories, peace, and equity and involves the participation of 57 universities and over 167 experts from Latin America.
De País a País began in 1991 and has been consolidated as an international cooperation strategy at CAPAZ partner, Universidad de Antioquia, to establish alliances with strategic countries and institutions and to promote future academic, scientific and cultural collaboration. Every year, the event brings together various regional, national, and international actors.
CAPAZ at De País en País
A talk co-organized by the School of Law at Universidad de Antioquia with CAPAZ and entitled: "How much inequality can peace endure" will be held on Thursday, November 5, 2020, from 4:00 to 5:00 p.m. Dr. Stefan Peters, CAPAZ Academic Director; Mara Viveros Vigoya, professor and researcher at Universidad Nacional de Colombia; and María Ochoa, professor and researcher at the Universidad de Antioquia Law School will attend the meeting.
Rural education, health and post-conflict, interculturality, reincorporation processes in Latin America, SDGs, peace and social inequities, territorial development, circular economy, gender equity, sustainable cities, ecotourism, coffee, oceanography and social mapping, and Latin American art and culture, will be some of the topics covered during the four day event.
Join us for De País en País 2020!
Download the full programme and find out more on the event's web page (in Spanish)
Register for País en País using this online form (in Spanish)
Event platform: depaisenpaisudea.rebus.com.co
Note: CAPAZ is not the organiser of this event, for more information, please contact the organisers directly.
(NW Text: Claudia Maya. English: Tiziana Laudato)