CAPAZ supports Forensictech Colombia 2022
ForensicTechColombia is a space of innovation and forensic technology at the service of justice in societies in transition.
In its 2022 version, Forensic Tech will feature international experts with experience in the investigation, search, recovery, and identification of victims of disappearance in transnational scenarios. This year, it will also have a space dedicated to the use of remote detection technologies to support the search for missing persons.
CAPAZ has supported this initiative, following the Havana Peace Accords, which, in point 5 related to the agreement on Victims, indicates that,
"Millions of Colombians have been victims of forced displacement, hundreds of thousands have died, tens of thousands have disappeared, not to mention the large number of populations that have been affected in one way or another throughout the country".
And, which adds that
"In order to alleviate the suffering of the families of persons deemed as missing and in this manner contribute toward the satisfaction of their rights, the National Government and the FARC – EP have reached two kinds of agreements: in first instance, to set in motion some initial and immediate humanitarian measures for the search, location, identification and respectable delivery of the remains of persons deemed as missing within the context and due to the internal armed conflict". 
CAPAZ Administrative Director, Carlos Nupia, will join the discussions at Forensic Tech Colombia 2022.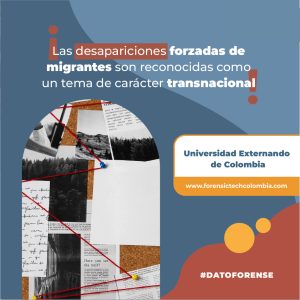 Following this idea, we have supported Forensic Tech 2022 in its task of laying the groundwork for the debate on forensic technology to serve justice in societies in transition.
Forensic Tech Colobmia 2022 will take place on November 23rd from 7:30 a.m. at Universidad Externado de Colombia and will feature a series of guests and panellists who will delve into issues related to the following:
Searching for missing persons in transnational missing persons contexts.
Challenges in searching for missing persons in ocean environments.
Identification of missing migrants.
Water current modelling in the search for missing persons.
Contributions from genetic profiling banks in the search for missing persons in transnational contexts.
Find out more here: www.forensictechcolombia.com