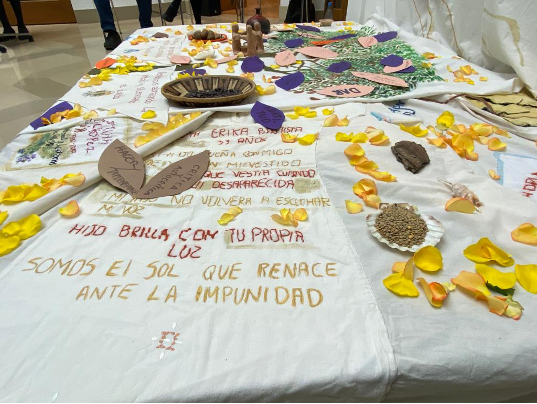 CAPAZ supports The truth in Exile – Road to peace: Nodo Alemania's event in Berlin
Nodo Alemania launched its Truth in Exile – Road to Peace in Colombia traveling exhibition in Berlin on November 3, 2009. The event took place at the Colombian Embassy in Berlin, Germany, with support from CAPAZ.
Colombia's Ambassador in Germany, Yadir Salazar Mejía; CAPAZ Science Collaborator, Rosario Figari Layús; and researcher of the Chair of Peace Studies at Giessen University, Matthias Schreiber, from the kolko e.V. Human Rights for Colombia organisation; and Saul Lozano, member of the German Support Node for the Legacy of the Truth Commission took part in the event.
The event included several acts of recognition of the victims who contributed their testimony to building the Final Report of the Truth Commission. This included a poetic performance entitled Las cruces del miedo, written by Sonia Solarte and performed by Rosmery Schoenborn, an actress and part of the Nodo Alemania Psychosocial Group.
The event included a reading of texts written by participants of the writing workshops coordinated by Nodo Alemania, as well as a few words of recognition for the victims —Juana Awad and Maria Lourdes Barbosa— who bravely shared part of their stories and life histories with those present. The recognition and acknowledgement concluded with a presentation of offerings to thank the victims who told their truth to contribute to the testimony gathering and with a minute's silence in their honour.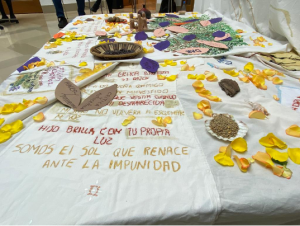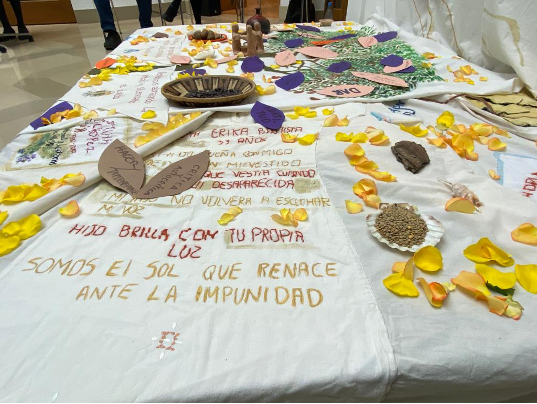 Finally, the final report of the Commission for the Clarification of the Truth was presented, in particular the chapters on "Exile" and "Findings and Recommendations".  The panel was moderated by Susanne Breuer de Misereor and included an analysis by human rights defender July Cassiani Hernández and political scientist Jullan Villa-Turek.