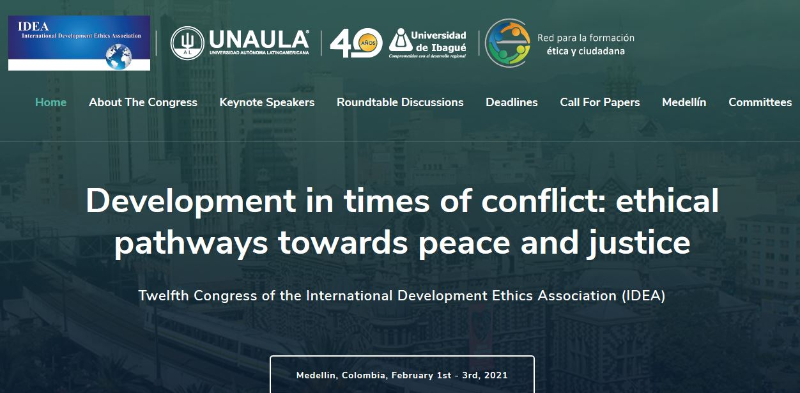 International IDEA Congress in alliance with CAPAZ: Call for Papers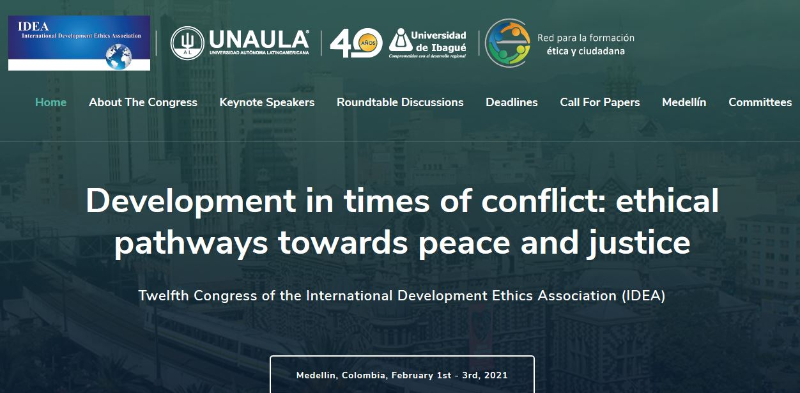 CAPAZ is a new supporter for the International Development Ethics Association (IDEA) Congress: "Development in times of conflict: Ethical paths to peace and justice", which will be held in Medellín, Colombia, from February 1 – 3, 2021.
The event organisers call on researchers, professionals, legislators and other interested parties to submit proposals for papers to be presented in this 21st version of the Congress in Medellín.
The deadline for submitting proposals has been extended to Wednesday, July 15, 2020.
The event is organised by the Network for Ethical and Citizenship Training (REDETICA), Universidad Autónoma Latinoamericana (UNAULA), Universidad de Ibagué and the IDEA Association, in partnership with CAPAZ, the Medellín Public Library Biblioteca Pública Piloto, and the Latin American Social Sciences Council (CLACSO).
Brief description
We welcome proposals on topics related to the promotion of dialogue and peace research, including: peace agreements, transitional justice, post-agreement, and peacebuilding. IDEA congresses are also open to proposals related to all aspects of ethics in developmental contexts.
The congress is international and will bring together academic and professional voices from various latitudes. It is conceived as a space for meeting, discussion and sharing of issues from the perspective of various disciplines – philosophy and other humanities; social sciences, political studies, development, social work – and in various fields of action: NGOs, local and global agencies and organisations, public service and government, legislation.
The event will be held in Medellín, a city that has experienced violence and transformations, as reflected in its processes of citizenship, political decisions, and urban reconfiguration. It is precisely these processes that make Medellín an ideal setting in which to bring together points of analysis on the challenges raised by the congress for academia, social actors, and decision-makers.
Key participants
The inaugural lectures by Adela Cortina, professor of philosophy at Universidad de Valencia, and Krina Batthyány, executive director of CLACSO, deserve special a special mention.
Among the varied methodologies proposed, the congress is noted for the participation of academics from Colombia, Europe, and the Americas. Stefan Peters, CAPAZ Academic Director and Professor of Peace Studies at Justus Liebig University Giessen will be one such guests.
Important facts and dates:
Deadline for submitting proposals: June 15, 2020 (Extended to July 15, 2020)
Languages used for the event: Articles and presentations can be in English, Spanish or Portuguese. Interpreting services will be available for some sessions.
Submission of proposals: https://easychair.org/cfp/IDEACongress2021
For more information:
Congress website (in English): http://devethics2021.unaula.edu.co/ or the IDEA website
Contact: conference2021med@unaula.edu.co
NOTE: CAPAZ will not be able to answer any questions regarding the presentation of proposals or the logistics of the congress, nor will it be able to receive proposals. For these purposes, please contact the event organisers directly.
(NW Text: Claudia Maya. English version: Tiziana Laudato)