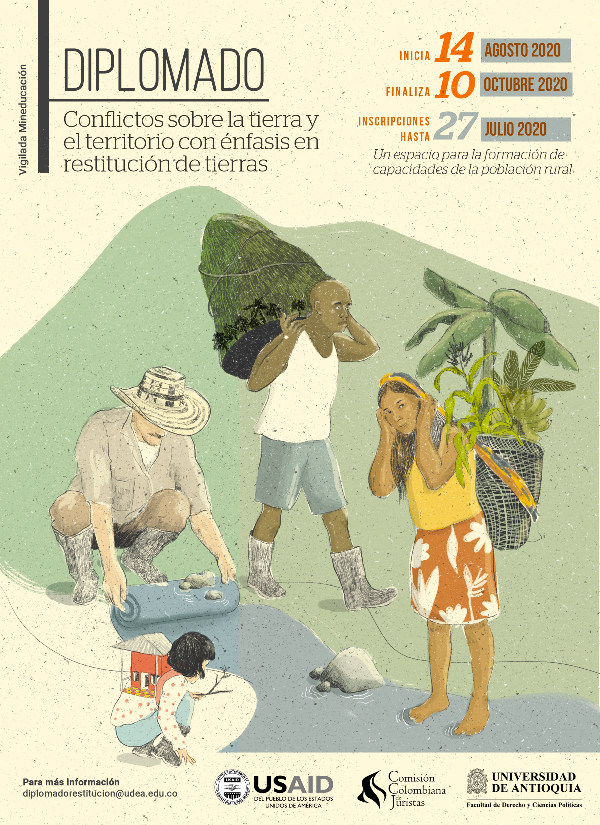 Call for online course on conflicts surrounding land and its restitution at Universidad de Antioquia
The School of Law at CAPAZ associate member, Universidad de Antioquia, and the Colombian Commission of Jurists (CCJ) have jointly opened a call for an online course called: "Land and territory conflicts with a focus on land restitution". The academic programme is due to run from August 14 to October 10, 2020.
The call for applications closes on Monday, July 27, 2020.
The diploma is an initiative launched by the Research Group in Rural Studies, the Study Group in Agricultural Law and the Research Group in Agricultural Policy and Law at the Urabá Campus of Universidad de Antioquia. The academic programme offered is part of the USAID Justice for Sustainable Peace Programme.
The main purpose of the programme is to strengthen the communities' capacities to manage and analyse land conflicts, based on tools made available to the communities and sectors interested in the defence of human rights, and the protection of land and territorial rights.
Read the detailed description of the course and application requirements on the academic programme's website.
Access the full call document, which includes the topics and schedule of the course (.pdf).
Further information: diplomadorestitucion@udea.edu.co
Note: CAPAZ is neither the organizer nor the provider of the academic programme. If you are interested in applying or require additional information, please contact the organisation directly through the contact details above.
(NW Text: Claudia Maya, based on the call on the Universidad de Antioquia website. English version: Tiziana Laudato)