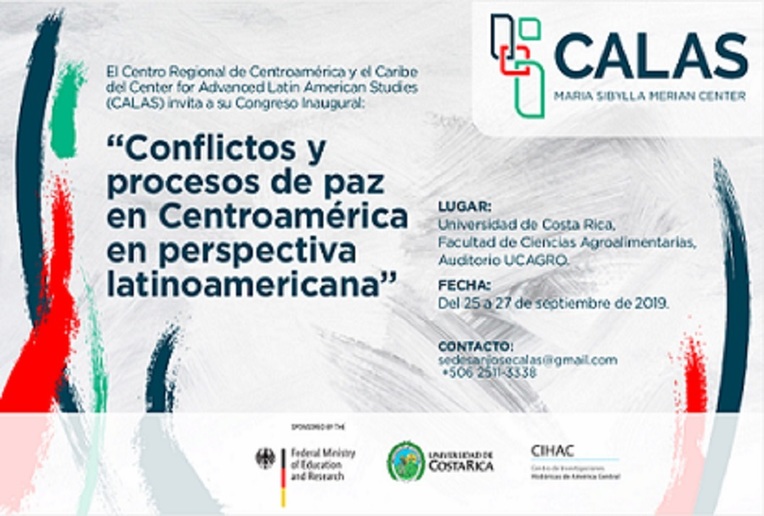 CAPAZ Director will participate in the CALAS Congress and Universidad de Costa Rica
CAPAZ Academic Director and Professor of Peace Studies at Justus Liebig University Giessen, Prof. Dr. Stefan Peters will attend the conference "Conflicts and Peace Processes in Central America in a Latin American Perspective", organised by the Central American Centre for Historical Research at the School of Social Sciences of Universidad de Costa Rica and the Maria Sibylla Merian Centre for Advanced Latin American Studies (CALAS).
The congress will take place from 25 to 27 September 2019 in the UCAGRO auditorium at the School of Agrifood Sciences at the University of Costa Rica.
During the first day of the congress, Prof. Dr. Stefan Peters will be one of the participants of the round table on conflicts and peace processes in Central America and their implications for Latin America, along with representatives of FLACSO Costa Rica and researchers from Costa Rica and El Salvador.
Professor Roberto González Arana from Universidad del Norte in Barranquilla, one of the CAPAZ partner institutions, will join the congress on the last day on Friday, September 27, 2019. Professor González will present his contribution "Challenges of peacebuilding in Colombia, three years after the Final Agreement", in panel 4 on peace processes, socioeconomic change and environmental conflicts.
Read the programme (Spanish)
For more information and contact: sedesanjosecalas@gmail.com
(Text: Claudia Maya. English version: Tiziana Laudato)