The Nodo Alemania online event on the situation in El Cauca and Chocó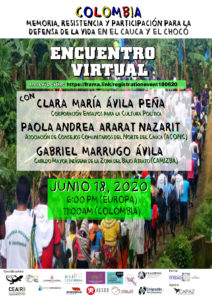 The German Supporting Group of the Colombia's Truth Commission (Nodo Alemania) invites those interested to the online meeting with Colombian women and men living in Europe entitled: "Memoria, resistencia y participación para la defensa de la VIDA. Relatos de las regiones del Cauca y el Chocó en Colombia" (Memory, resistance and participation to defend LIFE. Stories from Cauca and Chocó). The event will be held on Thursday, June 18, 2020, at 6:00 p.m. (Europe), 11:00 a.m. (Colombia).
In this case, the event is organised by people living in Munich who collaborate with the Nodo Alemania and who are mostly part of the collective called Aluna Minga. The collective is one of the organisations that have joined the work of the CAPAZ-supported Nodo Alemania.
The online meeting will be hosted by Clara María Ávila Peña, Paola Andrea Ararat Nazarit and Gabriel Marrugo Ávila, who live in Spain and are part of the Comprehensive Protection and Shelter Programmes for Human Rights Defenders in Valencia, Catalonia and the Basque Country.
Reflecting on how the international community can support them, they will talk about why they are in Spain; what has happened in their territories after the signing of the peace agreements with the FARC; how transitional justice, memory-building, and the search for truth have worked in their territories; how the situation of women and the LGBTI community has changed under the gender focus specified in the agreements. They will also briefly report on the measures taken to mitigate the COVID-19 and their implications.
Alba Teresa Higuera Buitrago, Coordinator of the Valencian Programme for the Comprehensive Protection and Reception of Human Rights Defenders (CEAR-PV) and Vicent Mauri, from Intersindical Valenciana in Spain, will moderate the event.
Web link: will be sent to those registered the day before the meeting.
Registration: https://frama.link/registrationevent180620
Language: Spanish with German and English translation. The translation will be provided by telephone. You can attend the conference via the platform and listen to the translation via telephone.
For more information:
info@alunaminga.org
kolumbien@oeku-buero.de
(NW Text: Claudia Maya. English version: Tiziana Laudato)