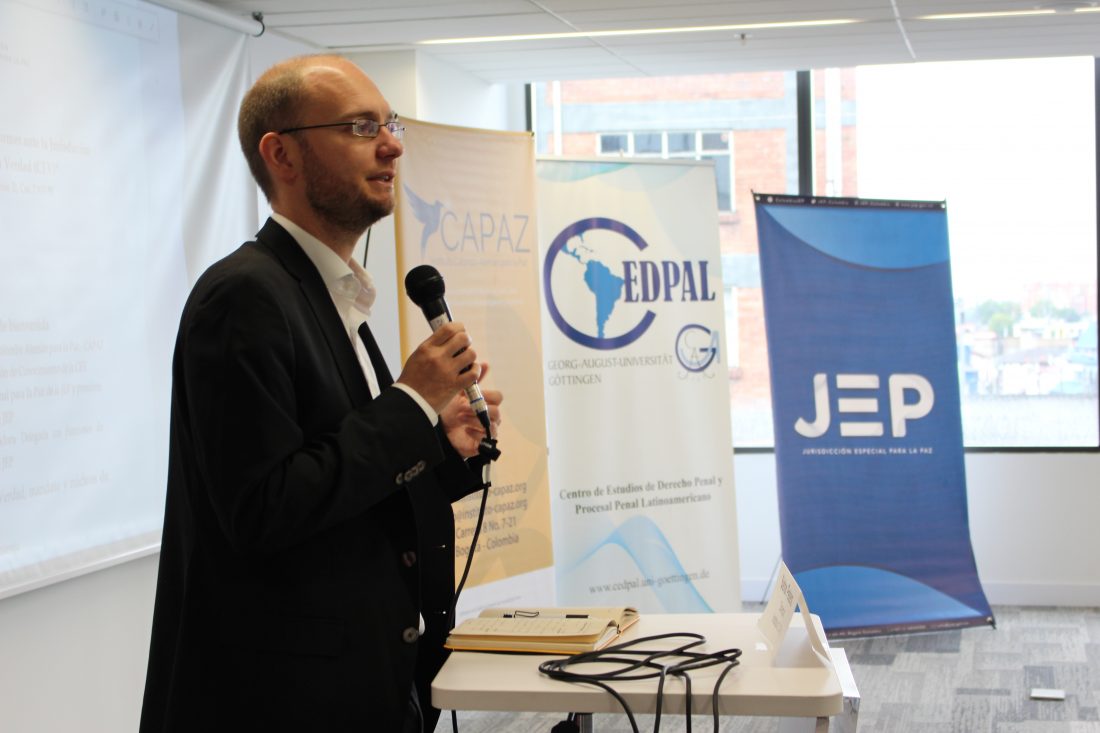 First workshop of the JEP and CEV accompaniment project
On October 3 and 4, 2019, CAPAZ, together with the Centre for the Study of Latin American Criminal Law and Criminal Procedure (CEDPAL) of the University of Göttingen, the Special Jurisdiction for Peace (JEP) and the Truth Commission (CEV) held a workshop entitled "Dialogue with universities on reporting to the Special Jurisdiction for Peace (JEP) and the Truth Commission (CEV)" at Universidad Pontificia Bolivariana (UPB) in Bogotá.
The workshop is one of the activities developed as part of the project entitled "Stabilisation of Peace in Colombia through Justice and Truth", aimed at strengthening the Integral System of Truth, Justice, Reparation and Non-Repetition (SIVJRNR), which receives funding from the German Federal Foreign Office.
Regional dialogue between institutions and academia
The main achievement of the October 2019 conference was to open up a dialogue involving representatives of the state institutions JEP and CEV -created as a result of the Final Agreement signed in Havana in 2016- and professors from CAPAZ associate universities located in different parts of Colombia.
Submission of reports
Teachers with experience in issues related to working with victims, violence and post-conflict were trained by members of JEP and the CEV to write reports according to their guidelines.
The reports will be used as input for the institutions' execution of the tasks. In this respect, they must comply with certain parameters and take into account the thematic axes of the research carried out by these institutions.
The importance of these documents lies in the fact that, on the one hand, they come from professionals and entities that work hand in hand with communities and human rights and victims' organisations. On the other hand, they contribute to the construction of a polyphonic truth, since they allow the victims' voices, their experiences and views that respond to the country's different realities to reach state institutions and have an impact on them.
Contribution of the academia in the regions
The participants in the event and their universities, are key actors: through their own research projects and the close work with the communities and human rights and victims' organisations of their regions, they could enable the preparation of rigorous documents that reflect the voice of each community or entity and narrate the violence experienced, with a possible impact on the key state institutions in the SIVJRNR.
Projections
Other workshops and activities will be held within the framework of this project, as will the production of publications. The following workshop, which will take place during the last weeks of November 2019, will be a replica of the first one addressed to CAPAZ partner universities in Bogotá.
Further information:
Astrid Orjuela: astrid.orjuela@www.instituto-capaz.org
Valentina Pardo: valentina.pardo@www.instituto-capaz.org
(Text: Valentina Pardo, Claudia Maya, English version: Tiziana Laudato).