Junior fellows 2024 call – Maria Sibylla Merian international centre for advanced studies in the humanities and social sciences conviviality-inequality in Latin America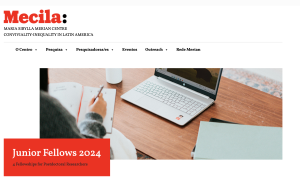 Mecila (International Centre for Advanced Studies in the Humanities and Social Sciences Maria Sibylla Merian Coexistence-inequality in Latin America) is a joint project of the following German and Latin American research institutions: Freie Universität Berlin (coordination); Ibero-Amerikanisches Institut, Stiftung Preußischer Kulturbesitz (Berlin); Universität zu Köln (Cologne); Universidade de São Paulo and Centro Brasileiro de Análise e Planejamento (São Paulo); Instituto de Investigaciones en Humanidades y Ciencias Sociales (Universidad Nacional de La Plata/Conicet, La Plata); and El Colegio de México (Mexico City).
Mecila cordially invites postdoctoral fellows from any discipline to apply for these junior fellowships. Successful candidates are expected to participate in a pluralistic international research network that focuses on the co-constitution of coexistence and inequality from interdisciplinary perspectives. Along these lines, the Centre addresses the processes of negotiation, legitimation, transformation and representation of existing hierarchies as they take place in everyday interactions and within institutions. The Centre encourages proposals focused on theoretical and/or empirical research using a wide range of methods and sources.
Mecila will award 4 junior fellowships to excellent researchers who have earned their doctoral degree in the humanities or social sciences. The duration of each fellowship is 9 months (March 1 to November 30).