New capaz Policy Brief: Radical listening as a task of memory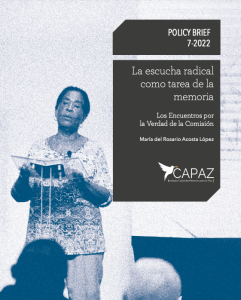 This is the most recent publication of the CAPAZ Institute's editorial project. We present an analysis and a proposal for a particular type of listening required by the Encounters for Truth: opportunities created by the Truth Commission, intended to "promote and contribute to recognising the victims as citizens whose rights have been violated and as political subjects that are important for the country's transformation" (Uribe, 2021). The publication is titled "Radical Listening as a Task of Memory".
Download Policy Brief 7-2022 (.pdf) in Spanish.
Abstract
In response to María Victoria Uribe's policy brief no. 6 (2021) on the recent meetings organised by the Truth Commission, I ask myself about the particular type of listening that these meetings both require and make possible. I propose a relationship between listening, truth, and forgiveness in which these terms are re-signified beyond the language of transitional justice, attending to other possibilities of interpretation. Thus, beyond clarification, reparation, and the idea of restorative justice, I suggest that something different is configured in the kind of radical listening that these encounters can elicit. I propose such listening not only as a historical and political possibility, but also as an aesthetic task (ethical and aesthetic at the same time): a necessary responsibility and interpellation, vis-à-vis the construction of memory in the Colombian transitional context, where the normalisation of violence has made it difficult to refute indolence and open ourselves to the possibility of listening to the unprecedented.
The author
María del Rosario Acosta López is a philosophy graduate and has Ph.D. in philosophy from Universidad Nacional de Colombia. She is currently a full professor at the Department of Hispanic Studies at the University of California, Riverside. Her main areas of research are aesthetics and philosophy of art, political philosophy, and Latin American studies with an emphasis on issues of memory construction in transitional contexts. mariadea@ucr.edu
This Policy Brief is part of the CAPAZ Línea Azul publications, which comprises academic works related to the Comprehensive System of Truth, Justice, Reparation and Non-Repetition (SIVJRNR).