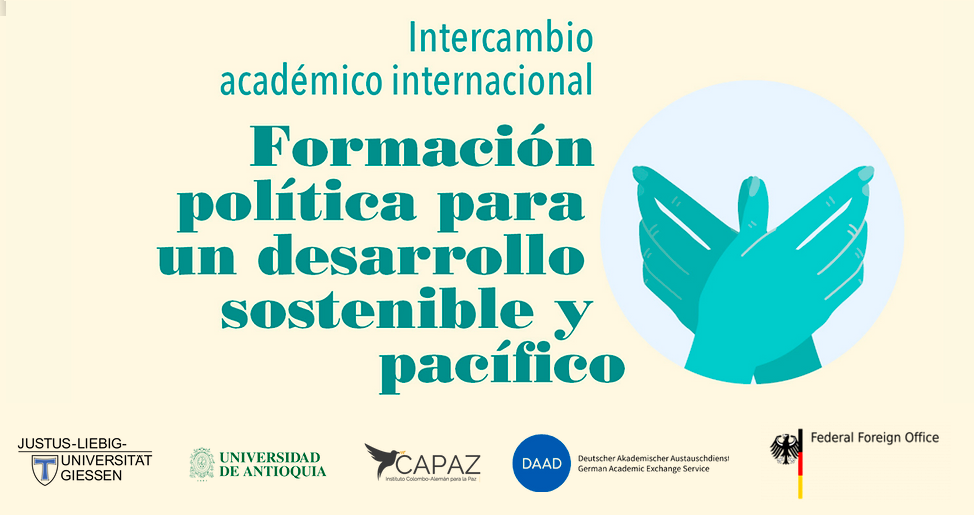 New video on the academic exchange "political education for sustainable and peaceful development"
From 24 to 29 October 2021, thirty researchers from Colombia, Ecuador, and Peru met in the context of the international academic exchange "Political education for peaceful sustainable development". They met near Medellín, Colombia, at the East campus of Universidad de Antioquia, where they exchanged research and experiences on the Sustainable Development Goals (SDGs) and political education in the different countries represented.
This event was organised by CAPAZ, Universidad de Antioquia and the Justus Liebig University of Giessen, with the support of the DAAD and the German Federal Foreign Office.
The following are some of the topics of conversation that were discussed over the course of these days:
"Discussing the SDGs and political education from transdisciplinary perspectives with people from different parts of Latin America, can help to encompass the complexity of these issues and also to find solutions for a better future".

–CAPAZ Academic Director, Stefan Peters.
"Education is one of the main driving forces for working towards sustainable development that stems from a critical and proactive political position. Whether formal or non-formal, education enables an encounter with the other. If we can begin to create spaces that allow this other to make human differences visible, we will be working towards the construction of a better society".

— Christian Guerrero, Psychologist, Universidad de Nariño.