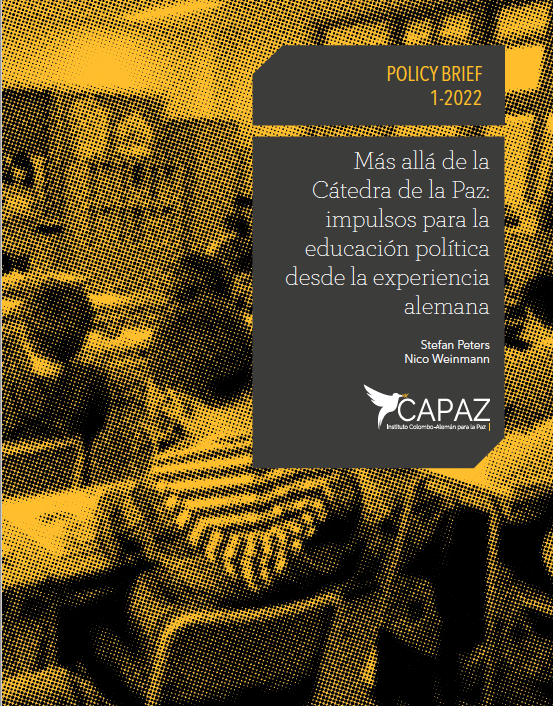 Political education from the German experience: First CAPAZ Policy Brief 2022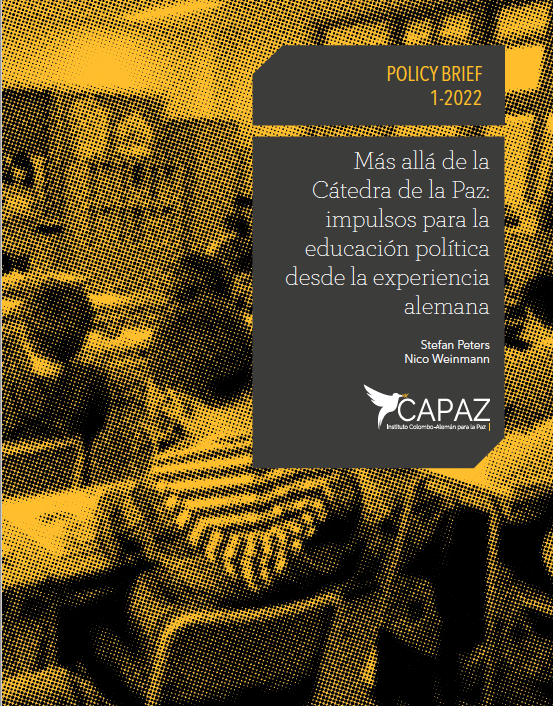 In our first publication of 2022, we present the Policy Brief entitled Beyond the Peace Chair: Impulses for political education from the German experience written by CAPAZ Academic Director Prof. Dr. Stefan Peters and by Nico Weinmann, secondary school German and politics teacher in Kassel, Germany.
This Policy Brief belongs to the CAPAZ Línea Amarilla publications, through which we seek to highlight some of the recommendations formulated by researchers on issues related to peacebuilding in Colombia, according to the results of their work.
For a full analysis and the authors' other recommendations, click here to access the Linea Amarilla Policy Brief PB1-2022 (.pdf in Spanish).
Article summary
"Based on the premise that education can support peacebuilding and contribute to the non-repetition of violence, this Policy Brief discusses the experiences of political education in Germany and the educational policies around the Peace Chair in Colombia, in the context of the Final Agreement for the Termination of the Conflict and the Construction of a Stable and Lasting Peace. The text points out the relevance of political education for peacebuilding and proposes a debate around German experiences as an inspiration for the debates in Colombia. In this sense, it points out the potential of taking: 1) fundamental and human rights as basic principles of political education; 2) the Beutelsbach Consensus as a basic standard for political education; and 3) interdisciplinarity as a fundamental tool. Furthermore, it discusses practical challenges in establishing quality political education and presents recommendations for improving this pedagogical alternative and the practice of the Peace Chair in the country".
"These issues are also relevant for Colombia, no doubt. The elaboration of the history of the internal armed conflict and the current peace process are important issues that should be the subject of political education. Such dedication, updated and of high quality, prepares today's students for tomorrow's problems".
Some of the recommendations proposed by the authors to strengthen political education in schools are, for example, anchoring political education in institutional terms (taking into account the corresponding financial resources), "teacher training and further education, the need for principles and a basic consensus on educational and didactic standards for political education", among other recommendations.
Authors/Researchers
Stefan Peters
Professor of Peace Studies at the Justus Liebig University Giessen and CAPAZ Academic Director. He studied Political Science, Peace, and Conflict Studies and Contemporary History at the University of Marburg, Germany, and at Universidad Complutense de Madrid. He received his PhD and his qualification in Political Science from the University of Kassel, Germany.
stefan.peters@instituto-capaz.org
Nico Weinmann
Secondary school teacher for German and politics in Kassel, Germany. He studied Political Science, German Literature and Linguistics and Education at the University of Kassel, where he also obtained his PhD in Political Science.