INTRODUCING THE CAPAZ ONEPAGER!
The Education and Science Diplomacy project is coming to an end. However, we still have some content left to share. One of these is the CAPAZ OnePager that we are launching this week.
What is a OnePager?
A OnePager is a short (maximum of one or two pages), informative or illustrative document on the state of the art in research on a topic. In the context of Education and Science Diplomacy, a OnePager will not only report on a topic or object of research, but also on projects, whether in progress or completed.
The purpose of these investigations or projects is to link them to CAPAZ (by topic, by the authors or by the support received by the project, etc.). We also want readers to get an idea of the current agenda of peace research topics in Colombia.
Who are the OnePagers intended for?
As these documents are simple to read, not at all abstract or technically complex (i.e. they do not use academic language), we hope to reach an academic audience (researchers) but also, for example:
Journalists: do you have to produce a story, a report, an interview on this topic? With the CAPAZ OnePager we provide background information: who is (are) researching this topic, reliable sources based on academic work, links of interest).
Students are you preparing your thesis, a presentation, a paper on a topic? The CAPAZ OnePager gives you inputs in a short, simple way, with suggested sources).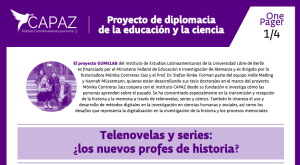 Academics. OnePagers provide you with information on what colleagues are researching, and help you to build bridges, open up possible collaborations, etc.
Decision makers. Local, regional, and national institutional actors; NGO actors, activists, advocates, etc.
We present the first CAPAZ OnePager: Soap operas and series: the new history teachers.
Download the OnePager PDF here
The project "Transmission of history through entertainment media. Research Laboratory on Memory and Digital Methods", is intended to explore how recent Latin American history is staged in soap operas and series and how these formats are received. The researchers wondered what influence they have on the way we relate to the past and see our present. They also inquired into how watching these telenovelas and series can affect political values and political formation.
This research was carried out by the GUMELAB project implemented by the Institute of Latin American Studies at the Freie Universität Berlin. The GUMELAB project is funded by the German Federal Ministry of Education and Research and is directed by historian Mónika Contreras Saiz and Prof. Dr. Stefan Rinke. The team includes Holle Meding and Hannah Müssemann, who are working on their doctoral theses within the framework of the project. Mónika Contreras Saiz has been cooperating with the CAPAZ Institute since its foundation and conducts research on how people learn about the past. She has focused especially on the transmission and reception of history and memory through soap operas, series, and comics. He is also interested in the use and development of digital methods in human and social science research, as well as the challenges of digitization in the investigation of history and memorial processes.
Mónika Contreras Saiz and Julián Román spoke about this project in an episode of VoxPopuli, also in the framework of the Education and Science Diplomacy project.