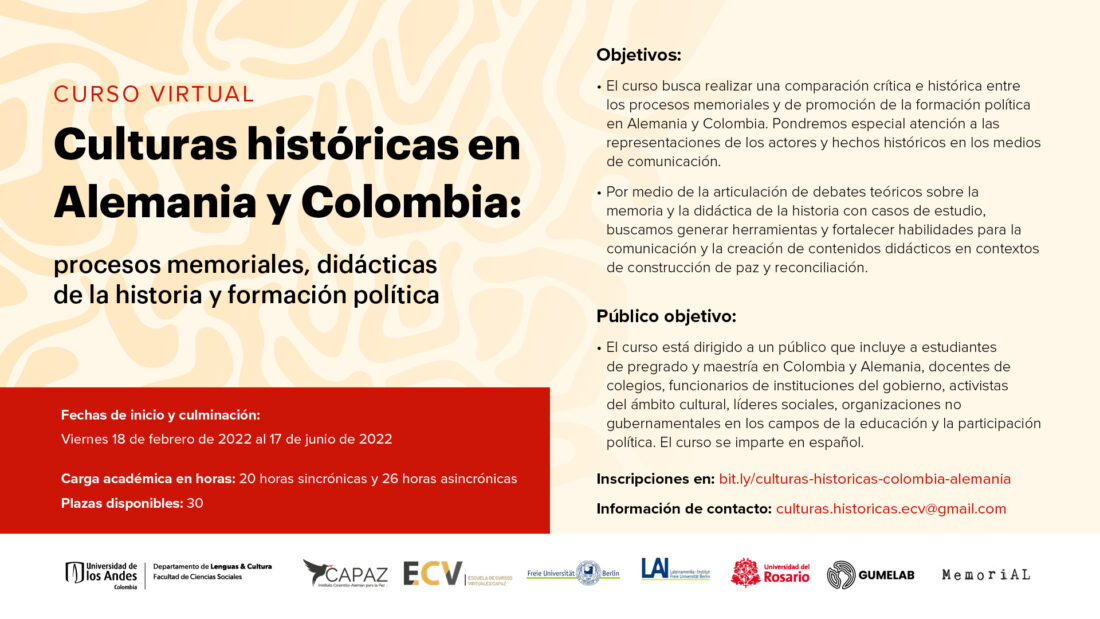 Registration open for online course on memorial processes in Germany and Colombia
"Historical cultures in Germany and Colombia: memorial processes, teaching about history, and political education"  is a course that we have organised in partnership with Universidad de los Andes, Universidad del Rosario, the Latin American Institute at Freie Universität Berlin, and the Laboratory for Memory Research and Digital Methods (GUMELAB): Geschichtsvermittlung durch Unterhaltungsmedien in Lateinamerika. Labor für Erinnerungsforschung und digitale Methoden-GUMELAB).
Students on this course will draw a critical and historical comparison between the processes of memorialisation and the promotion of political education in Germany and Colombia. Particular emphasis will be placed on the representations of actors and historical facts in the media.
By articulating theoretical debates on memory with case studies, we intend to develop tools to strengthen communication skills and the creation of didactic content in contexts of peacebuilding and reconciliation.
The course targets a wide audience: undergraduate and master's degree students in Colombia and Germany, school teachers, government officials, cultural activists, social leaders, and non-governmental organisations in the fields of education and political participation.
Start date: February 18, 2022
Completion Date: June 17, 2022