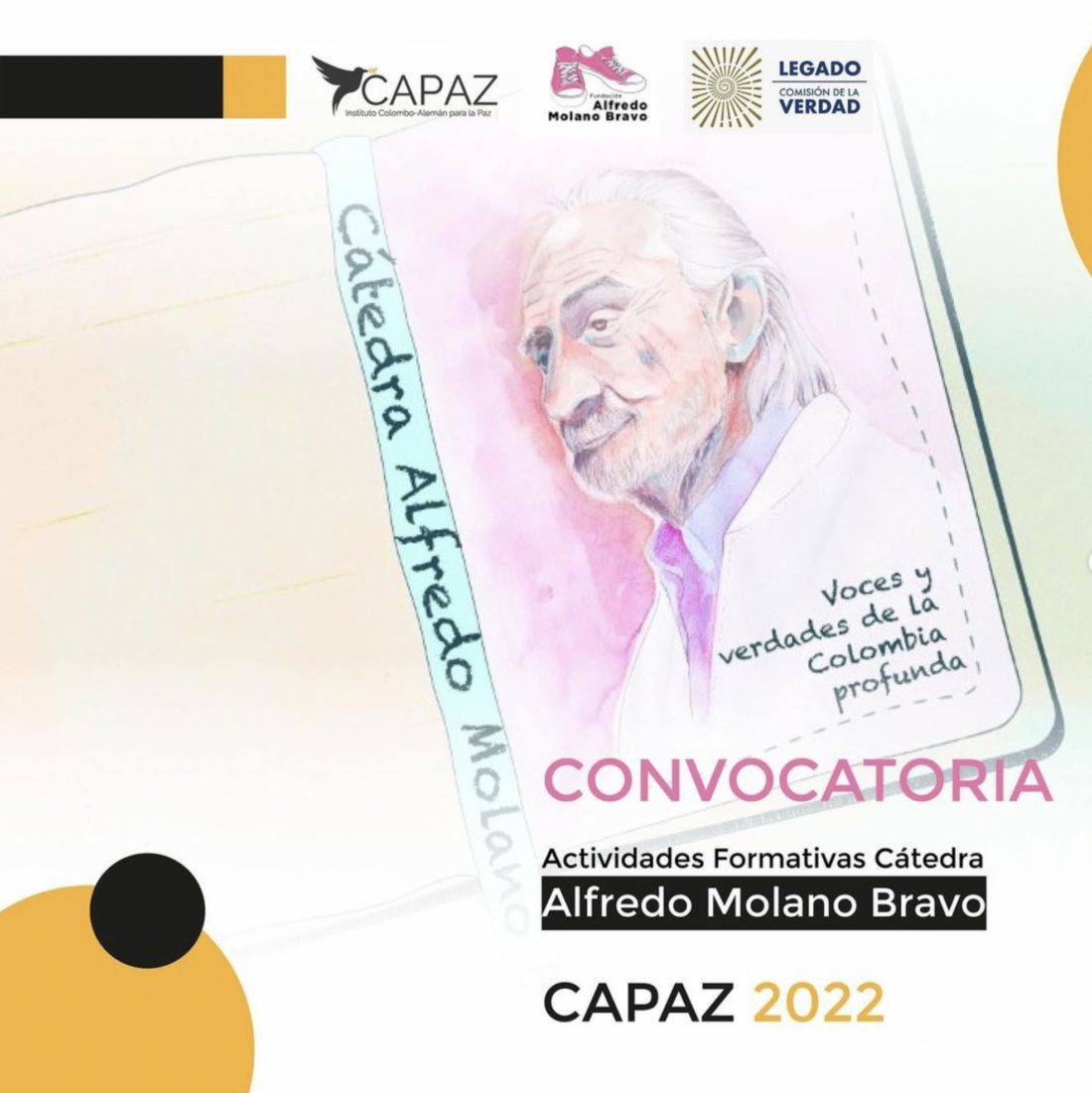 RESULTS OF THE ALFREDO MOLANO BRAVO CHAIR 2022 CALL FOR PROPOSALS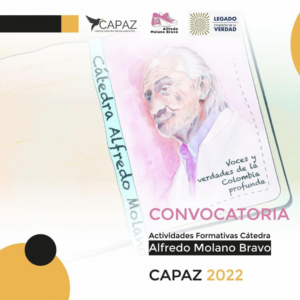 CAPAZ is pleased to announce the (5) training proposals selected to receive support and be developed during 2022.
A total of (20) applications were received, of which seventeen (17) met the mandatory requirements set forth in the terms of reference. Finally, five (5) proposals were selected to receive funding in the second half of 2022. Below are the results of the selection process.
Results of the CAPAZ Alfredo Molano Bravo Chair 2022 call for proposals:
Line of the call: Chairs on the legacy of the CEV (Truth Commission)
 1) Dialogues "truth, geography, and listening on the road to transformation as a reparative and restorative measure". Universidad Externado de Colombia; Resguardo Aticoya; Colegio Distrital Jorge Soto del Corral.
Line of the call: Local summer schools
2) « Molano Bravo Itinerant Summer Schools on the Legacy of the CEV from an intersectional perspective (gender, class, ethnicity/race, sexuality, age) in the Colombian Caribbean». Universidad Nacional de Colombia – Sede de La Paz; Red de Mujeres del Caribe (APRODEFA).
3) Winter School "The CEV Report: A Historical Archive for the Future of Colombia".  Instituto de literatura y romanística; Goethe University Frankfurt; Nodo Alemania; Colectivo Rhein Main; Asociación Café Azul E.V.
4) summer school: there is a future if there is truth. Universidad Autónoma de Bucaramanga, Universidad Francisco de Paula Santander, sede Ocaña; Fundación RED de mujeres del Catatumbo Movimiento Visibles; Corporación Brisas de la Panela, Museo Antón García de Bonilla, Fundación 5 Sentidos; Mesa Municipal de Víctimas de Ocaña y el Consejo Municipal de Paz, Convivencia, Reconciliación y no Estigmatización de Ocaña.
Line of the call: Teaching-research course
5) « Building pedagogies of truth in schools in the South Pacific»: Universidad de Los Andes; Casa de la Memoria de la Costa Pacífica Nariñense.
 Results of the CAPAZ Alfredo Molano Bravo Chair 2022 call for proposals (.pdf, in Spanish)
CAPAZ highlights the academic quality and thematic diversity of the proposals received, as well as the motivation to present the proposals and develop them, responding to the situation and the purpose of the Alfredo Molano Bravo Chair, intended to strengthen the social appropriation of the legacy of the CEV and the work of Alfredo Molano. The proposals presented met the challenge of articulating academia and civil society, communities and other local actors, keeping Molano's teachings alive, with the commitment to amplify the voices and truths of deep Colombia, together with the legacy of the Truth Commission. As an Institute we are happy to support these initiatives.