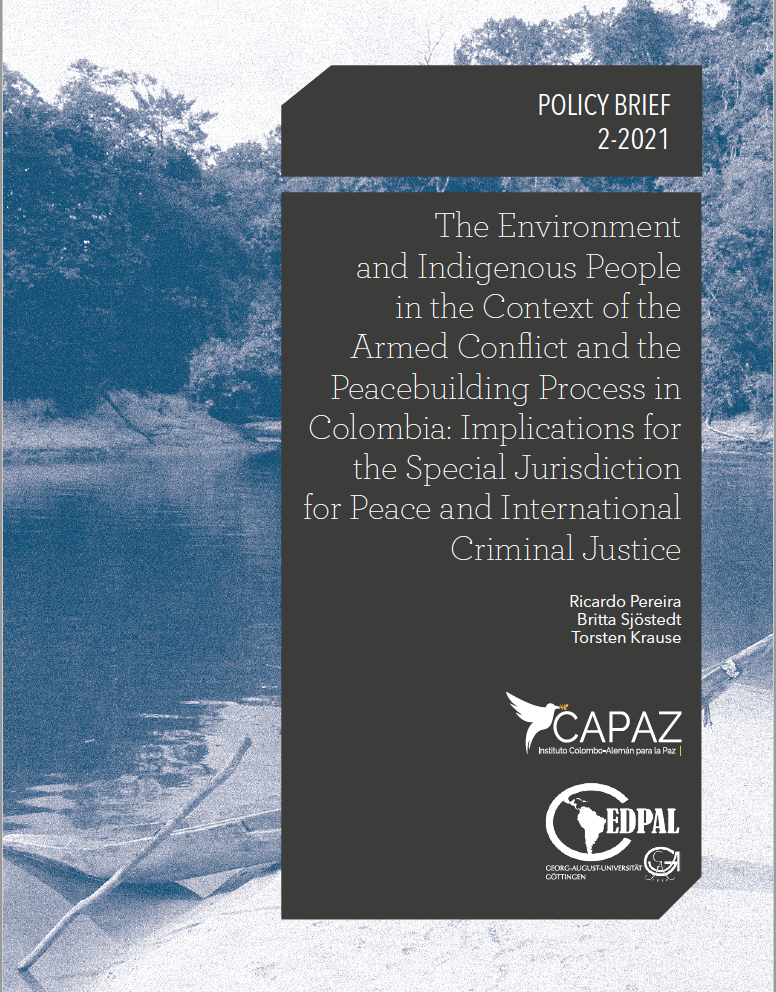 LÍNEA AZUL CAPAZ – POLICY BRIEF 2-2021 on indigenous people, environment and peacebuilding in Colombia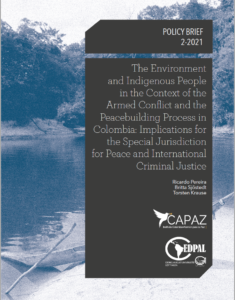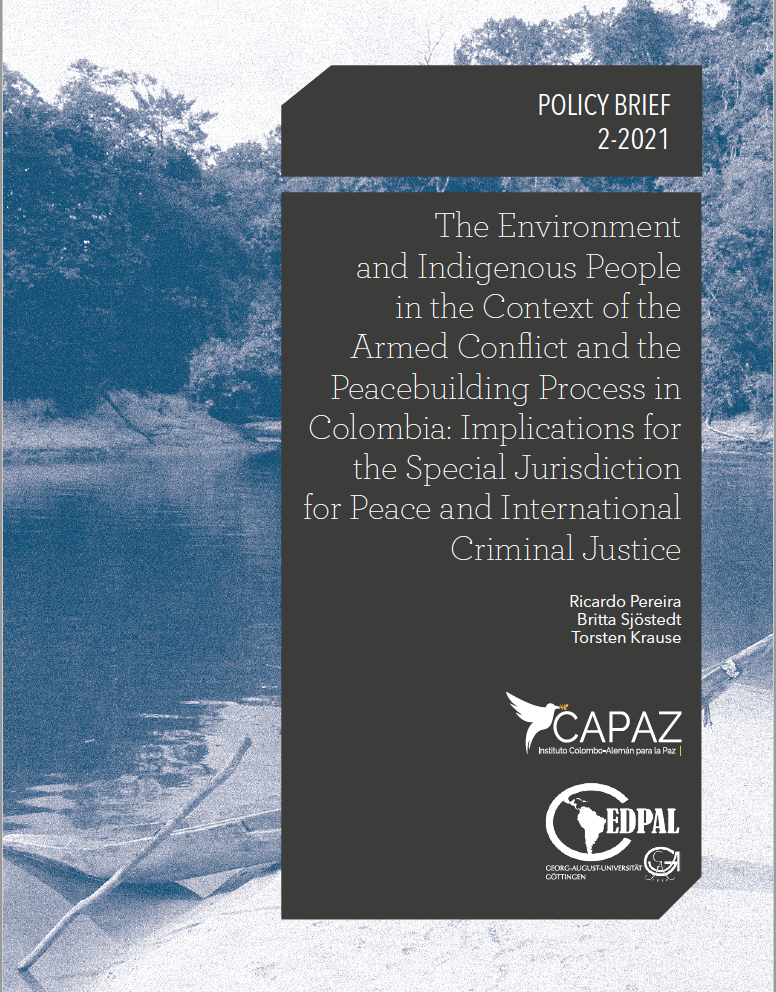 The policy brief is entitled: «The Environment  and Indigenous People in the Context of the Armed Conflict and the Peacebuilding Process in Colombia: Implications for the Special Jurisdiction for Peace and International Criminal Justice» and its authors are Ricardo Pereira, Britta Sjöstedt and Torsten Krause.
Extract:
«This policy brief aims at assessing the impact of the armed conflict in Colombia on the environ-ment and on indigenous peoples, and the applica-tion of the rules of IHL and international criminal law to the armed conflict as well as their implications for the Special Jurisdiction for Peace (JEP) and for international criminal justice.»
Authors/Researchers: 
Britta Sjöstedt, Senior lecturer at the Faculty of Law of Lund University. She is researching and teaching environmental law and public international law. Her current research interests relate to public international law including environmental protection, armed conflict, environmental peacebuilding and environmental security. She is a founding board director of the Environmental Peacebuilding Association and the co-chair of its Law Interest Group. She is also a member of International Law Association's Committee on Role of International Law in Sustainable Natural Resource Management for Development. Contact: britta.sjöstedt@jur.lu.se
Dr Ricardo Pereira, currently a Reader (Associate Professor) at Cardiff University, UK, and Adjunct Research Associate Professor at the Asia-Pacific Centre for Environmental Law, National University of Singapore. He holds a Ph.D. in Law from the University of Essex, UK, and LLM. degrees from City, University of London and Queen Mary, University of London. He has published widely in the fields of environmental criminal law, international law and human rights, which includes the book Environmental Criminal Liability and Enforcement in European and International Law (Brill, 2015). His recent research has focused on the development of a crime of ecocide under international law and participatory governance in environmental criminal law enforcement. Contact: pereirar1@cardiff.ac.uk
Torsten Krause, Senior lecturer at Lund University. He has a background in International Business Administration (BSc) from the European University Viadrina and the Montpellier Business School, and a MSc in Environmental Studies and Sustainability Science from Lund University. He obtained his PhD in Sustainability Science from Lund University in 2013. Torsten Krause has extensive interdisciplinary research experience and has previously worked in Chile, Ecuador, Nigeria, Spain and Sweden. Over the past years he has focused his research on forest governance and post-conflict natural resources management in Colombia. Contact: torsten.krause@lucsus.lu.se
This Policy Brief is sponsored by the German-Colombian Peace Institute – CAPAZ and the Centre for the Study of Latin American Criminal Law and Criminal Procedure – CEDPAL.
Access the Policy Brief Línea Azul CAPAZ 2-2021 (.pdf, in English)
Ricardo Pereira, Britta Sjöstedt and Torsten Krause. «The Environment  and Indigenous People in the Context of the Armed Conflict and the Peacebuilding Process in Colombia: Implications for the Special Jurisdiction for Peace and International Criminal Justice», CAPAZ CEDPAL, April 2021, Bogotá. ISSN: 2711-0346
(NW: Claudia Maya, from the PB2-2021 Línea Azul)